Dell to open 1,000 stores in China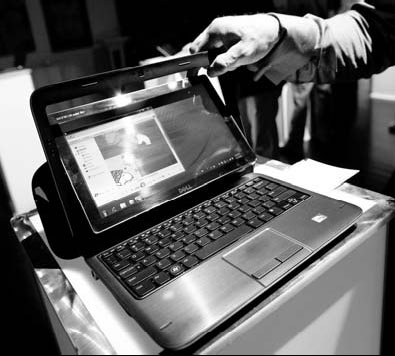 A Dell Inc laptop at a Microsoft event in San Francisco in December. Dell's market share in China dropped to 7.5 percent in the fourth quarter of last year, according to IDC. Noah Berger / Bloomberg
BEIJING - The US computer maker Dell Inc said on Thursday that it will aggressively expand its sales and after-sales service network in China this year as part of its efforts to tap the local market, where domestic player Lenovo Group dominates.
Michael Yang, president of Dell's operations on the Chinese mainland, said in an interview that the world's third-largest PC maker by market share will establish more than 1,000 new retail stores for commercial customers and also double the company's after-sales service sites in China this year.
"Although China's PC market has slowed down since last year, computer demand is still robust," Yang said on Thursday.
He said the company is expected to grow faster this year than last and that the new after-sales service sites will be mainly in rural areas.
Dell's business grew 21 percent in China last year, but still lags far behind market leader Lenovo Group Ltd, which dominated one-third of China's PC market in the last quarter, according to figures from the research company IDC.
In the past few years, Dell has been trying to expand its China sales coverage beyond the major cities by partnering with big retailers such as Gome Electrical Appliances Ltd and Suning Appliance Co Ltd. It has also established about 1,000 after-sales service sites across the country.
Yang said that Dell's expansion plan is part a sales channel restructuring in which it will rely more heavily on sales partners to expand its consumer and small-enterprise business.
China still hold enormous potential for Dell's growth, he said, adding that the company plans to introduce its tablet computers in the country in April.
According to IDC figures, China's PC market grew by only 4 percent in the fourth quarter of last year. The slowdown is due mainly to the government's recent efforts to cool the economy.
Dell's market share in China dropped to 7.5 percent from 10 percent in the previous quarter, according to IDC. Other players besides Lenovo have also seen their market share drop in the period, said Antonio Wang, an IDC analyst.
However, Yang said on Thursday that Dell has made a strong market recovery this year, as the demand for computers in China is still robust. "I think China's economy is still very healthy," he said.
Dell has a big manufacturing base in Xiamen, Fujian province. In September, it opened a new factory and service center in Chengdu, Sichuan province, in order to supply the booming demand in the West China region.
China Daily
(China Daily 02/25/2011 page16)
Today's Top News
Editor's picks
Most Viewed