Sudan's Bashir not to stand in next election: party official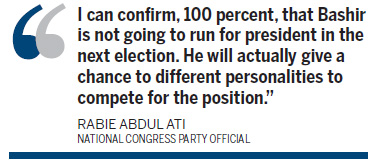 KHARTOUM, Sudan - Sudanese President Omar al-Bashir will not stand for re-election, an official of his National Congress Party said on Monday, insisting, however, that he was "not under pressure" from the wave of protests rocking the Arab world.
"I can confirm, 100 percent, that Bashir is not going to run for president in the next election. He will actually give a chance to different personalities to compete for the position," Rabie Abdul Ati told AFP.
"But he is not under pressure... This is not in the context of the change that is happening in the Arab world. It is happening because of the political strategy of the NCP to broaden participation," he added, referring to a meeting of the ruling party's youth wing last week.

Today's Top News
Editor's picks
Most Viewed