Spanish-born Fernandez suspended from all soccer activity with immediate effect
PARIS - Israel national coach Luis Fernandez was suspended from all football activity with immediate effect by world governing body FIFA on Thursday, a FIFA source told AFP.
The 51-year-old Spanish-born former French international had been suspended, FIFA said, because of an outstanding judgement made against him in 2009 relating to the Qatari team, Al-Rayyan, he coached in 2005.
The Israeli Football Association (IFA) had said earlier on Thursday it had received an "official request" from FIFA to fire Fernandez.
The request said Fernandez "must cease all football related activities immediately due to a failure to pay a debt to a team he coached in the past in Qatar," the Israeli body said.
The IFA said it was expecting to meet Fernandez to discuss the issue.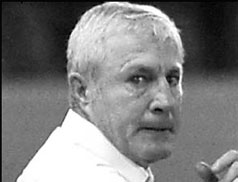 "Next week I will meet with Luis Fernandez and decide together how to solve the problem that was created," IFA Chairman Eli Luzon said.
Fernandez, the hardman of the legendary early to mid-1980s French midfield which also included Michel Platini, Alain Giresse and Jean Tigana, told French radio station RMC - where he is a consultant - before FIFA announced the punishment he wasn't concerned by the matter.
"There is something going on at the moment, but I don't want to say any more than that," he said.
"There is a criminal complaint, which has lasted five years, between FIFA and myself, and a lawsuit between two clubs and it is not for Luis Fernandez to sort out.
"This is a sporting decision. There was a criminal complaint made against me and from that moment a dossier was opened.
"FIFA maybe wanted to anticipate the outcome and did not have all the ingredients pertinent to the case, it is vital they be patient, and we will see.
"I am not going to reimburse something I didn't take, its simple.
"If someone is claiming 400,000 euros ($543,141) and it is not me who took it from the safe nor stashed it at home, what do you want me to give them, that I pay for others? I do not pay for the others."
Fernandez has not had much success since taking over the national team last March, racking up just one win in European qualifying, over Malta.
Fernandez, who played 60 times for France and was a member of the side that won the 1984 European Championship title, coached Paris Saint Germain to the 1996 Cup Winners Cup, and was also in charge of Spanish sides Athletic Bilbao and Espanyol.
Agence France-Presse
(China Daily 02/19/2011 page15)