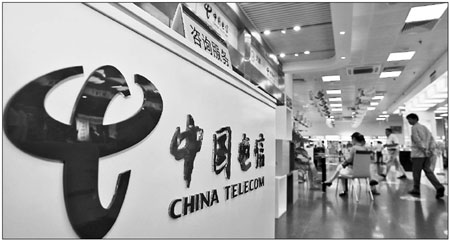 Customers at a China Telecom branch in Nantong, Jiangsu province. The company plans to improve its Internet infrastructure by converting from low-speed copper wires to high-speed fiber optics and aims to boost high-speed Internet user numbers to 100 million. Xu Congjun / for China Daily
Company to triple high-speed access and increase services by year-end
BEIJING - China Telecom is going to triple the user numbers of its new high-speed optical fiber broadband by the end of this year to 30 million and expects to expand that number to more than 100 million by the end of China's 12th Five-Year Plan (2011-2015), it said in a news release on Wednesday.
The company said that within three years, its broadband network plans to cover every city and convert all low-speed copper broadband wires to fiber optics, which will improve bandwidth capabilities. The maximum Internet speed will increase from 2 megabytes (MB) to 100 MB by 2015.
Under the current Five-Year Plan, released by the government last year, China will place emphasis on developing its telecommunication infrastructure, with total investment in infrastructure reaching 2 trillion yuan ($303 billion), of which broadband development will account for 80 percent, said Hu Shan, an official of the China Academy of Telecommunication Research at the Ministry of Industry and Information Technology.
"Only 23 percent of Chinese families have Internet access now, so China still has huge potential in this industry," said Wang Xiaochu, chairman and chief executive officer of China Telecom.
The company "will follow government policies to improve infrastructure and cooperate with local governments to integrate China's tri-networks", he said.
Tri-network integration (telecommunications, television and the Internet) is a program aimed at providing the three services through a single line.
High-speed broadband is the foundation of China's Internet development, said China Telecom.
According to data released by the National Development and Reform Commission, the nation had 126 million broadband users by the end of 2010, and telecom industry sales revenue reached 898.8 billion yuan in 2010, a 6.4 percent year-on-year increase.
The government report also pointed out that broadband prices decreased about 40 percent from 2006 to 2010. China Telecom said prices will continue to decrease over the next five years.
The company also said it will introduce cloud computing (using the Web as a hard drive) and the "Internet of Things" (connecting everyday electronic objects to the Internet), provide more Internet applications to broadband and mobile Internet users, and accelerate its transformation into a comprehensive telecom service provider.
"Applications are the core issue. What we can bring to our customers is a more important question, we think, than the discussion about using 3G or 4G," said Wang.
China Telecom is calling for more Internet companies to create and cooperate in providing more applications, General Marketing Manager He Zhiqiang said.
"All the applications you can find on the iPhone that you are charged for, we will provide to our customers for free," He said.
Cloud computing will be at the top of the company's agenda this year.
China Telecom has accelerated the pace of providing cloud-computing services to small- and medium-sized companies and rural schools to help them save on fixed costs.
The company currently has 70 million low-speed broadband users.
China Daily
(China Daily 02/17/2011 page16)