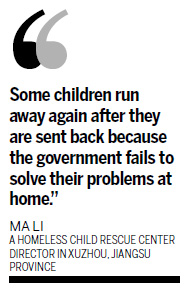 BEIJING - Parents should be temporarily deprived of their custody rights if they are found renting out their children to beg or perform on the streets, a leading activist against child begging said.
Yu Jianrong, an initiator for an ongoing campaign to crack down on child begging, made the suggestion following reports that the legal guardians of seven children rented them out to perform acrobatics on the streets in South China's Hainan province.
"Children cannot be used as tools to make profit, so I think if their parents or guardians break this rule then they should be punished," Yu told China Daily on Monday.
The police in Hainan's Sanya city caught two adults and nine child beggars in a market following a tip-off last Thursday, local media reported. Seven of the children came from Henan province and most of them were under the age of 10.
With the help of their counterparts in Hainan province, the police in Taikang county, Henan province, launched an investigation into the children's identities and family backgrounds.
Several government officials from Taikang county flew to Sanya on Sunday, planning to take the seven children back.
"Those children were not abducted, they are acrobats," said Li Wei, a police station director at Taikang told Henan Business Daily.
He also showed an employment contract, which stated that Zhang Weibing, one of the children found in Sanya, was employed by an acrobatic troupe with a monthly payment of about 1,000 yuan ($152). Zhang's parents had allegedly signed the contract.
"It is illegal to employ people under the age of 16, therefore this kind of contract is not effectual in law," Chen Wei, a Beijing-based lawyer, told China Daily.
"Those parents' behavior definitely should be condemned. However we must be prudent before we say they should be deprived of their custody," Chen said.
Such a punishment seems unfeasible given that China's welfare systems are not well enough established to take care of children whose parents are deprived of parental rights, Chen added.
Police across the country have rushed to the streets and joined the campaign to crack down on child begging.
Police in Guangdong province investigated 368 possible child abduction cases from Feb 1 to 10. But they found that none of the children had been abducted. All 135 children police found begging or performing on local streets were actually brought to Guangdong by their own parents, other guardians or relatives.
After police reprimanded their parents, the children either went home with their parents or were taken to local child-rescue centers.
Statistics from the Ministry of Civil Affairs show that the country's rescue centers have received an annual average of 140,000 homeless juveniles over the past five years.
Normally, civil affairs authorities or public security departments will try to contact their parents so the homeless children can be returned home. Those who are orphans or have lost contact with their parents will be sent to child welfare homes or orphanages.
For Ma Li, who has been helping homeless children for 15 years, the current intervention of simply sending them back home is problematic.
"Some children run away again after they are sent back because the government fails to solve their problems at home," said Ma Li, a homeless child rescue center director in Xuzhou, East China's Jiangsu province.
Domestic violence, bad parent-child relationships, poverty and many other reasons force a child to leave home and beg on the streets, Ma said.
"We cannot afford follow-up visits to all children we have sent back, and it is very difficult to know how they live just by our telephone surveys," Ma added.
Ma said more professional social workers were urgently needed to help those children stay at home, Ma said.
Cao Yin contributed to this story.
China Daily
(China Daily 02/15/2011 page4)