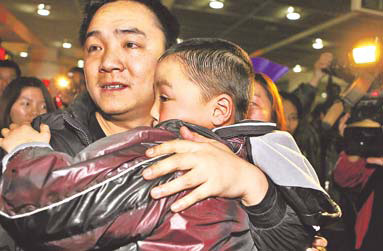 Peng Gaofeng hugs his son, kidnap victim Wenle, amid emotional scenes upon the boy's arrival at Shenzhen airport on Feb 10. Wenle was rescued three years after his abduction thanks to information provided by bloggers. Provided to China Daily

Netizens collect and share photographs, information and clues on the Internet as part of campaign to fight kidnappers, reports Li Li in Beijing.
Yi Xiwei ran into two women begging with two children on the street in Chongqing on Sunday. The 24-year-old marketing director stopped and reached into her pocket. Instead of taking out her wallet, Yi grabbed her cell phone and snapped a photo of the children.
When she got home, she quickly uploaded the photo to the Internet and wrote details such as time and place into a weibo (micro blog), the Chinese counterpart of Twitter, hoping someone could verify whether they were abducted children.
The Twitter campaign in China to find children started on Jan 25, the day a social scientist posted a thread. Yu Jianrong, a rural expert with the Chinese Academy of Social Sciences, called on his Twitter followers to upload photographs of child beggars and compare them with those of missing children.
Micro-blogging in China then demonstrated its immense power of mobilization. In three weeks, more than 220,000 people joined the campaign, six missing children have been found, and one family has been reunited.
With so many people taking part in the campaign, the rescue of abducted children has become a priority in China. Deputies to the two sessions - annual conferences of the National People's Congress and the Chinese People's Political Consultative Conference, beginning in the first week of March - pledged they would tender proposals on the issue.
Various government agencies have gotten involved. The police went on the micro blog, followed the campaign and rescued the six children. Civil affairs authorities arranged children's DNA tests to aid in identification. Several non-governmental organizations have also launched projects to help begging children.
Here is how a thread evolved into the largest Twitter campaign so far in China, one year after micro-blogging - messages of 140 or fewer characters - appeared in the country.
"Micro-blogging may help put an end to the phenomenon of using children to beg," said Yu Jianrong, who initiated the campaign. "It also adds an immense social pressure against trafficking of children."
Statistics from the Chinese Ministry of Civil Affairs show that as many as 1.5 million children are beggars, most of them forced into it. And a large number of them were abducted.
About 3,000 abductions of women and children are reported every year, according to the Ministry of Public Security. Yet many parents do not find the children, even with the help of police.
Power of retweeting
Yu started the campaign in the form of a snapshot micro blog, and it has expanded to an online network of more than 220,000 people. They frequently exchange messages and routinely retweet photos of child beggars and missing children, trying to reach as many people as possible.
"It is as easy as lifting a finger, and we might have helped people, why not," Jiang You, 28, said Sunday. A computer engineer from Fujian province, he had just published his snapshot of a 2-year-old child beggar to the network.
"And guess what," he said. "That piece of micro blog of mine was retweeted over 1,500 times within a day. It shows people's hatred for traffickers and compassion for abducted children."
Through Yu's team and tens of thousands of netizens, more than 3,000 tweets with children's pictures and other details were collected and published via the network, with each one retweeted hundreds to thousands of times. "I now have six volunteers helping me with the campaign," Yu told China Daily. "They are based everywhere and they take turns to manage the micro blog."
Yu and his team met over the weekend to discuss operational problems and development plans.
"Whenever we see a micro blog revealing a possible abduction case, we pass on the information to the police for verification," Yu said. "Our volunteers are sorting out all the sources. We will try to set up a child beggar database for further investigation."
At the same time, micro blogs have proved effective at finding missing children.
The beneficiaries
"Without the micro blog, I probably wouldn't see my son again," Peng Gaofeng told China Daily, choking back sobs. The 33-year-old man found his abducted son through a micro blog, and the story has made headlines throughout China.
Peng lost his son, Lele, on March 25, 2008, when a stranger took the 3-year-old forcibly in front of Peng's grocery in Shenzhen. Six surveillance cameras caught images of the man escaping with Lele until they disappeared on a bus, but these clues didn't help Peng and the police track down the kidnapper.
"It is a crime more evil than murder," Peng said.
He put big posters outside his grocery and turned it into a working base for searching for his son. He said he tried working with the police, advertising in newspapers, handing out fliers, offering rewards, protesting on the street with other parents, writing blogs. These attempts attracted attention, but didn't lead to his son - until Deng Fei, a reporter for Phoenix Weekly, tweeted about it and attached Lele's photo.
Deng published this micro blog to his 110,000-plus followers, and it was quickly retweeted more than 5,000 times. Deng said he republished the message and photo on holidays, hoping someone could identify the boy.
Two days before Chinese New Year, a netizen who had seen Lele's picture found a child who looked just like him in Pizhou, Jiangsu province, and he contacted Peng immediately. A few days later, Peng traveled to Pizhou to see the boy. It was, indeed, his son. By that time, Lele had been living with the family that abducted him for three years.
"Everyone can be an investigator with the help of micro-blogging," Peng said.
Reporter Deng live-tweeted the reunion of Peng and his son on Feb 8 and uploaded the reunion video. By 3 pm on Feb 14, the video had been watched more than 470,000 times just on youku.com, one of China's most popular video websites.
An online sensation
Peng's story took the micro blog campaign to repress child begging and child trafficking to a new level. Everyone was talking about it, on and off the Internet. By 3 pm Monday, more than 760,000 messages about child begging were tweeted on Sina.com's micro blog. Netizens from various cities formed volunteer groups to help child beggars in their areas.
It was so widely discussed that the Ministry of Public Security responded.
"I will use micro-blogging to keep communicating with everyone," Chen Shiqu, director of the ministry's anti-trafficking office, said via his micro blog. "We welcome any crime clues on trafficking and we will carefully check and verify every piece of information."
In fact, the government has organized five major crackdowns on human trafficking since the 1990s. Two years ago, a national DNA database was founded to assist. Blood samples from parents of children reported missing and samples from children of unclear background were collected and stored for automatic matching.
Zhang Baoyan is one of the first people who suggested the database to the ministry. "So far, over 900 children and their parents were united under the help of the DNA database," said Zhang, director of a non-governmental website, Baby Come Home, which helps parents exchange information and search for missing children.
Inspired by the micro blog campaign and Peng's story, Zhang opened a micro blog account for her website a week ago to increase the exchange of information. More than 80,000 followers have been added.
"Every piece of new message or picture of missing children we put up to our micro blog gets retweeted continuously," Zhang said. "We are definitely going to rely more in our future work on micro blogs."
Differing views
Some netizens prefer to believe in the power of the Internet over the police when its comes to find missing children. Yi Xiwei said the child beggars she ran into Sunday in Chongqing were standing just 100 meters from a police patrol station.
"One child was begging and singing using a microphone, and they have been there for a few days," Yi said. "There's no way these police wouldn't have noticed. I think a better chance to attract attention for these children is on the Internet."
Some people argue that the campaign violates the children's right to control their own portraits (images). Some say the campaign has deprived beggars of their right of survival. And some fear the campaign might trigger traffickers' violence toward the children.
"Begging itself is already an action of exposing the children's portraits. And using children to beg is illegal," Professor Yu countered. "Our goal is to make people realize that, in a civilized world, children should be in school instead of begging on the street."
For Sun Haiyang, Peng's reunion with his son and the heated micro blog campaign are a huge encouragement. The 37-year-old man lost his son, also 3, in Shenzhen in 2008. He and 17 other parents used to be Peng's "searching partners". After hearing of Peng's success, Sun is now pouring all his energy into monitoring micro blogs and sleeping less than three hours a day, he said. Each similar picture or phone call from warmhearted friends makes his heart jump.
"Although it has all been false alarms so far, I believe the scope and amount of information on micro blogs will provide a bigger chance," Sun said. "Maybe one day I'll hear news about my boy from a phone call like Peng did, that simple."
Xing Zhengguang's outlook is not as bright. A 33-year-old Shaanxi farmer, he lost his 1-year-old son in 2009.
"I heard that the abducted child in Shenzhen has been found in the end," said Xing, whose family earns less than 1,000 yuan ($150) per month. "It is lucky that they own the privilege of finding their son using advanced computer technique, which is kept from us by overwhelming poverty."
Zhang Yuchen contributed to this story.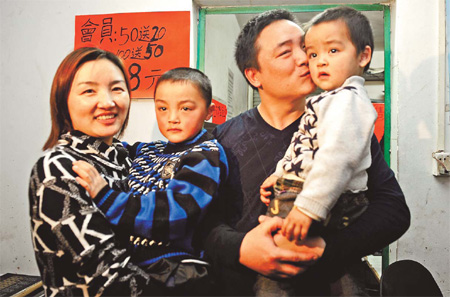 Peng Wenle, in his mother's arms, poses for a photo with his parents and younger brother, Peng Wenbo, on Thursday. Lele, as his family calls him, was 3 when he was abducted in 2008 outside his father's grocery in Shenzhen, Guangdong province. He was found Feb 1 by a netizen in Pizhou, Jiangsu province, more than 2,000 km away. Photos Provided to China Daily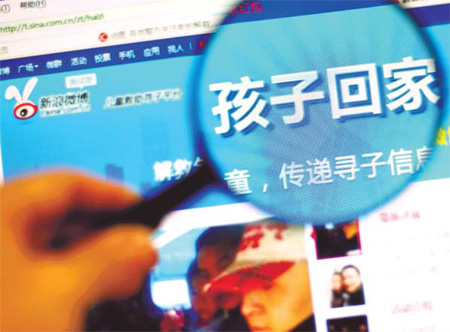 A micro blog campaign in China to find stolen children has swept the country.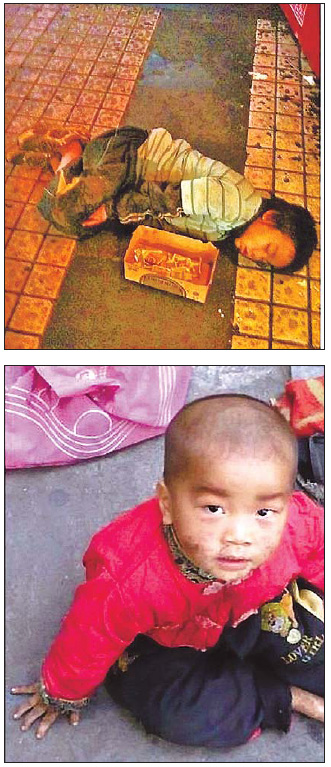 Netizens photographed these young beggars in Chongqing (above) and Haikou, capital of Hainan province, and posted their pictures and locations online. Photos Provided to China Daily
(China Daily 02/15/2011 page1)