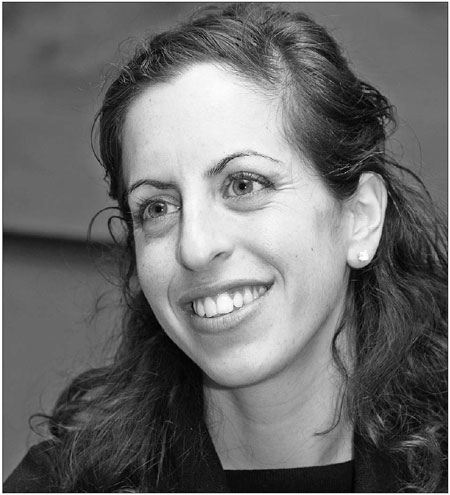 Tzur says the chamber launched with a handful of entrepreneurs, but today more than 60 of Israei's top companies are members. Photos Provided to China Daily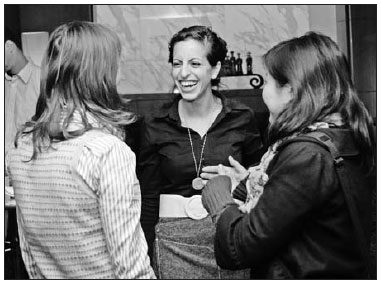 "The only thing that I had going into this job was energy and a sparkle in my eye," Tzur says.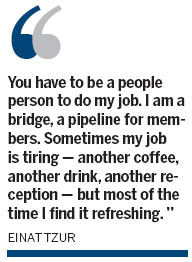 Israeli Chamber of Commerce leader ready to take her networking skills to a new level. Tallie Lieberman catches up with Einat Tzur over coffee.
Einat Tzur is a woman in the know ?at least as far as Beijing's burgeoning Israeli community goes. As founding executive manager of the Israeli Chamber of Commerce, "IsCham?to friends and followers, Tzur keeps a light finger on the pulse of the Chinese market and its foreign players. Responsible for making vital connections between Israeli entrepreneurs and their local counterparts and finding creative solutions to a host of unusual and unconventional business challenges, Tzur works with the kind of tireless confidence that belies her youth and relative lack of industry experience.
"I began working at the chamber as a young girl of 27, and the business world truly didn't interest me. The word 'economics' alone would send shivers down my spine," says Tzur over coffee recently at the Opposite House in Sanlitun.
"I began my life in Beijing as a tour guide," she says. "After I graduated from University of Haifa, I got a scholarship from the Chinese government to come to China to study for a year. That was when I began guiding. I soon realized that if I really wanted to stay in Asia, I would need a concrete reason," she said, tapping her knuckles on the table.
Tzur's boisterous enthusiasm leaves little doubt as to her natural aptitude for a job that is, at least to her mind, entirely people-oriented.
"You have to be a people person to do my job. I am a bridge, a pipeline for members. Sometimes my job is tiring - another coffee, another drink, another reception - but most of the time I find it refreshing.
"If I had to sit near the computer all day, every day, I would be bored to death," says Tzur with a flash of a smile. "My personal life is clearly wrapped up in my job. There are ideas that pop up in even the most personal situations. I can remember a conversation with a friend who talked about how hard it was for her to find a job here, because besides speaking Chinese, she didn't have any work experience. I then thought of establishing an internship program for Israeli students seeking to gain work experience here. This initiative was met with enthusiasm from both students and companies and is going well so far."
Under her two-and-a-half-year tutelage, the chamber's membership has expanded from individual entrepreneurs to include some of Israel's most successful companies, more than 60 in all. What began as the brainchild of several Israeli entrepreneurs in China nearly three years ago has transformed into an institution which, together with the Israeli Embassy, helps guide Israeli companies through the often confusing maze of the Chinese market.
"I won't fall asleep until every last e-mail is written and every phone call returned," Tzur says.
"I'm not only focused on what the Chinese can offer Israelis, but also on what Israel can offer the Chinese. My job is fitting this particular plug in the appropriate outlet. Business is a puzzle and you need to know which pieces to place where - this is my job. I am in a position of observing the market as a whole and recognize what goes where."
Yet after two and a half years spent establishing IsCham and managing its day-to-day operations, Tzur recently made a radical decision to step down in April 2011 and leave China altogether.
"The only thing that I had going into this job was energy and a sparkle in my eye," she says. "What brought me here at 25, the love of China, brought me to my job and now my job is what makes me enjoy living here."
So why go when the going's good?
"It was either staying here for at least five to eight years and establishing myself in Beijing or going home to Israel and establishing myself there. I was at a crossroads and I decided to go home," she says.
"I think that, in general, the Chinese are wonderful hosts and even though you're a 'lao wai,' you can easily feel at home here. Despite this, I've decided it's time for me to be close to my family. My purpose now is to find a job in a company that wants to establish an operation in this market. There are few directions I think of at the moment."
Tzur will leave behind her hutong apartment and a colorful group of friends from all over the world, and she will take with her an ardent love of China, impeccable work ethics and a certain knack for connections.
"I came here not because of a relocation," she said. "I came here because I am tied to the culture, to the language here. I see other foreigners suffering from certain things here, and I am happy to be here for my own reasons, my own choices. China is the land of endless opportunity, if you know how to play by the rules of the game."
(China Daily 02/13/2011 page5)