Drivers' chances narrowed by unexpected competition
BEIJING -An unexpectedly large number of drivers have applied to enter a lottery drawing that will be used this month to distribute license plates for new vehicles, making each participant's chances of winning dimmer.
The Beijing municipal commission of transport said the total number of applicants for the second license-plate lottery to be held in the city came to 306,865 during February's eight-day application period, which ended at midnight on Tuesday.
Among them were 169,820 applicants who failed to win the first lottery, held in January. They were automatically placed in the drawing this month.
The 137,045 new applicants will have to pass a qualification test. The results will be released on Feb 25, the day before the second lottery.
If they all pass, only one in some 20 applicants will have a chance of buying a new car. Beijing this year began to use a lottery system to distribute a monthly quota of 17,600 new license plates to individual car owners in the hopes of reducing traffic gridlock.
The chances of winning a car plate have dimmed since January, when 210,000 drivers filed applications and 187,420 eventually qualified to take part in the drawing. The chances of winning then were about one in 11.
The news of the large number of applicants was difficult for some to take.
"My chances are getting smaller and smaller," Yang Shuo, a 26-year-old Beijing resident said, unable to disguise his disappointment at the increase in the number of applicants which he did not expect.
Yang, who started working one and a half years ago, said he urgently needs to buy a car for his job. But his attempt at winning a license plate in the first round of the lottery was unsuccessful.
"There is nothing I can do about it but hope for luck," he said.
Yang Hongshan, deputy director of the department of urban planning at Renmin University of China, said he was not surprised by the increase in the number of applications.
He said that the rules of the game will inevitably lead to a situation in which drivers with little need for a new car compete with those who are desperate for one.
"The most needy car buyers will mobilize their close relations, such as their family members, to take part in the drawing," he said. "That will lead to a larger total number of participants."
Yang said the lottery system should be better tailored to meet individual needs. An advantage should be given to drivers who could most use a new car or who have been unsuccessful throughout many rounds of license-plate drawings.
"The lottery system is not a set-in-stone policy, and amendments should be adopted," he said, adding that it will be immensely difficult to arrive at the best possible system.
To combat gridlock, Beijing decided to grant only 240,000 new license plates this year - one-third of the total issued in 2010. Individual car buyers will receive 17,600 plates a month, which will amount to 88 percent of the total plates available over the course of the year. Commercial drivers will get 2 percent of the total and businesses and government bodies will get 10 percent.
Beijing's new traffic measures stipulate that a driver may only register one car. Businesses can apply once every two months, according to the rules.
Tan Zongyang contributed to this story.
China Daily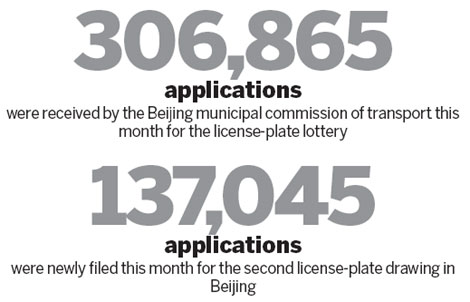 (China Daily 02/10/2011 page5)