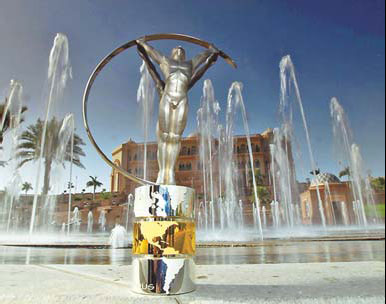 The Emirates Palace hotel is ready to host the star-studded Laureus World Sports Awards gala to be held on Monday. Provided to China Daily
Annual 'Oscars' of sporting scene to help 'inspire, change the world'
ABU DHABI - Stars from the sports and entertainment worlds will converge at the 2011 Laureus World Sports Awards gala on Monday to witness the winners of the coveted accolade.
Dubbed the "Oscars of sports", the awards will be well represented by dozens of sports and Hollywood luminaries during a televised ceremony at the Emirates Palace hotel in Abu Dhabi.
Former tennis world No 1 Boris Becker and soccer star Franz Beckenbauer will lead a group of sports legends, which also includes English soccer icon Bobby Charlton, renowned soccer coach Bora Milutinovic, Olympics seven-gold medalist swimmer Mark Spitz and five-time Motor GP world champion Mick Doohan, to honor the winners and boost the image of the awards worldwide.
The presence of the sports stars is expected to inspire the sports spirit in the younger generation, according to Edwin Moses, two-time athletics Olympic gold medalist and chairman of the Laureus World Sports Academy.
"I am delighted that the Awards is returning to Abu Dhabi and that we are going to have such a wonderful collection of great sportsmen and women of today and so many great legends from earlier years," Moses said.
"It makes for a wonderful atmosphere to be able to mix together and to salute the best of sport. The Awards is to promote sport's power to inspire and change the world, and they (the legends) showed us how to make it," Moses said.
Joining the sports figures on the stage are some big names of the entertainment industry, with two-time Oscar winner Kevin Spacey and Hollywood celebrity Morgan Freeman spearheading a star-studded list to add glamour to the party.
Spacey, who won Oscars twice for his roles in The Usual Suspects and American Beauty, will once again host the ceremony after last year's debut. Spanish actresses Elsa Pataky, who has appeared in 18 films and Paz Vega, who co-starred with Freeman in 10 Items or Less, will also be among the special guests at the awards.
Singer Ronan Keating, who has sold more than 20 million records worldwide, is scheduled to perform on stage.
Oscar-winning actress Gwyneth Paltrow as well as British film stars Hugh Grant and Clive Owen showed up for the awards last year.
The Laureus World Sports Awards, which recognize sporting achievements from Jan 1-Dec 31, 2010, are the premier honors on the international sporting calendar.
Several award nominees including soccer stars Lionel Messi and Andres Iniesta, Los Angeles Lakers star guard Kobe Bryant as well as tennis stars Kim Clijsters and Serena Williams, will be absent from the ceremony because of team events or injury.
"Every year, some of the nominees are not able to come because they have matches to play, injuries to recover from or even family members' birthday parties to enjoy," Moses said.
"But it doesn't matter ... it won't harm the gala's excitement."
Among the latest sports stars to confirm their attendance at the awards are both the men's and women's tennis world No 1s, Rafael Nadal of Spain and Caroline Wozniacki of Denmark.
Nadal heads the men's nominations against Germany's Sebastian Vettel, the youngest ever Formula One world champion, Filipino boxer Manny Pacquiao, Kobe Bryant, Andres Iniesta and Lionel Messi.
On the women's side, title defender Serena Williams was nominated along with Clijsters and Wozniacki, American ski star Lindsey Vonn, British heptathlon athlete Jessica Ennis and Croatian high jump icon Blanka Vlasic.
In the team category, Spain's World Cup team is vying with the European Ryder Cup team, the NBA champion Los Angeles Lakers and the New Zealand All Blacks rugby side.
China Daily
(China Daily 02/07/2011 page12)