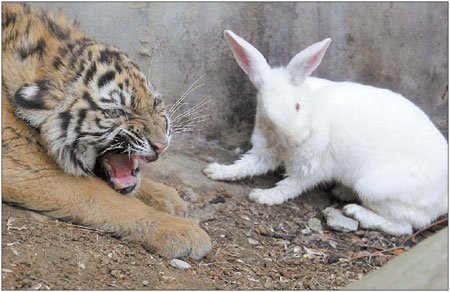 Hey! It's my year next, so stop making all that noise. A fluffy white rabbit shows no fear as it calmly grooms itself next to the snarling tiger at the Wuhan Jiufeng Forest Zoo. Zhou Guoqiang / China Daily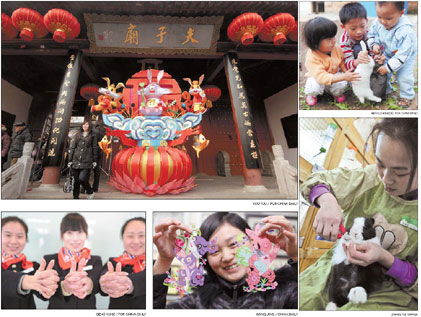 Clockwise from top row: Outside the entrance of the Confucius Temple in Nanjing, a colossal rabbit lantern heralds the coming Lunar New Year. Curious children get close to furry rabbits and make friends with the cute creatures in Qionghai, Hainan province. A black-and-white Dutch bunny enjoys a pedicure and make-over by a pet-shop groomer. On a busy day, the pet shop may sell as many as 10 rabbits as the New Year approaches. Colorful papercuts featuring the animal of the year will be used for decoration during the New Year, These traditional papercuts are particularly popular pasted on doors during the festive season. Customers at a power company in Lianyungang, Jiangsu province, will be greeted with a "rabbit gesture", which staff work hard to perfect, wiggling their painted thumbs in greeting.
The Rabbit takes its turn ruling the next lunar year, as the ferocious Tiger abdicates. We are all hoping it will be a gentler year with less disruptive displays by men and nature.
(China Daily 01/30/2011 page6)