Rising waters still threaten Australia
MELBOURNE, Australia - Authorities told townspeople in Australia's southeast to flee homes with three days of supplies on Wednesday as a surging river threatened another community in a flooding crisis that has devastated the country's mining industry.
Up to 1,500 homes in Kerang, in the north of Victoria state, could be affected if the Lodden River rises any further. The flooding in Victoria follows weeks of massive flooding in northeastern Queensland, which swamped two-thirds of the giant state, paralyzed several mines and left 30 people dead.
One of the victims, a 13-year-old boy, was buried alongside his mother on Wednesday after becoming a national hero for insisting that rescuers first save his younger brother when their family car was gripped by a raging torrent of water.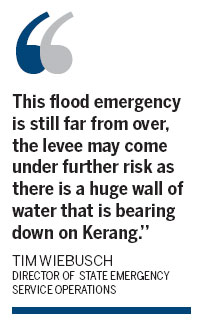 Elsewhere in Queensland, authorities gave several of the state's waterlogged coal mines special exemptions to environmental rules so they could pump water out into their already-flooded surroundings. The mining industry estimates the flooding has cost A$2.3 billion ($2.31 billion) in lost sales of coal, Australia's most lucrative export, causing a shortage that has pushed up global prices.
In Victoria, more than 1,200 km south of the Bowen Basin which holds most of Queensland's coal mines, the Kerang levee breached at several points and people were urged to head for a relief center on higher ground, the State Emergency Service (SES) said.
"You should ensure you have left your property immediately," the SES said in text message alerts sent about 5:20 am to the town's 2,500 residents.
Officials later said the levee was expected to hold, despite water pouring through it at several points. Still, the threat to the town had not passed as water levels were expected to remain high for several days, said Tim Wiebusch, director of SES operations.
"This flood emergency is still far from over," he said. "The levee may come under further risk as there is a huge wall of water that is bearing down on Kerang."
Walls of water kilometers wide are surging across northern and western Victoria in the wake of record rainfall last week. Floodwaters have already left 1,000 households in Victoria's northwest without power, and thousands more homes are under threat of cuts as substations and low-lying power lines are submerged.
Associated Press
(China Daily 01/20/2011 page12)
Today's Top News
Editor's picks
Most Viewed