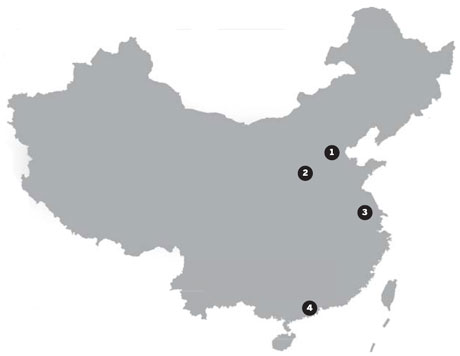 1. Beijing
Police find fake Amway products
Fengtai district police recently seized more than 500 cartons of fake Amway products worth nearly 18 million yuan ($2.7 million) and arrested 76 suspects in the biggest counterfeit case since the US company began doing business in China in 1995.
Local police were informed last November that sales people with a non-Beijing accent were hawking counterfeit Amway makeup to passersby at popular public spots.
Police then moved in at 10 sites and seized a host of fake products.
The Ministry of Public Security listed the case as one of 10 major intellectual property infringements nationwide in 2010.
4,000 arrested, billions worth of goods seized
China's courts heard more than 1,100 cases of intellectual property infringement from January to November last year, with 1,000 of them now settled.
The statistics do not include other crimes such as illegal business operations or production and sales of counterfeit and inferior commodities that had infringement components, Xiong Xuanping, vice-president of Supreme Court, said at a recent news conference.
During the same period, police arrested more than 4,000 suspects and investigated about 2,000 infringement cases nationwide that together involved goods valued at 2.3 billion yuan ($348.3 million).
Each of the figures is more than three times those recorded in the same period of 2009, indicating that intellectual property infringement is on the rise, said Gao Feng, an official of the Ministry of Public Security.
2. Shanxi
True traditional vinegar gets better with age
Locally made mature vinegar no longer needs to carry an expiration date, according to new industry standards released by the province's vinegar association in late December.
According to the revised standards, products marked with the geographical indication of Shanxi mature vinegar must be made in accordance with traditional procedures, meet a higher requirement for acidity and be aged at least one year.
Processed in that way without preservatives the vinegar will not spoil, the association said, and like some spirits will have enhanced aroma as it ages.
The vinegar's shelf life was previously set at two years.
3. Jiangsu
Desist order on 'L'Oreal' labeling for local firms
The province's high court recently upheld a Nantong intermediate court decision made a year ago that ruled Chinese companies should stop trademark infringement on French cosmetics brand L'Oreal and make compensation for unfair competition.
The defendants based in Hangzhou and Shanghai made and sold cosmetics with the logo "L'Oiyir 莱雅". As well, the Hangzhou firm founded in 2004 had "欧莱雅" as part of its Chinese name.
The defendants said their trademark L'Oiyir is made up of English letters that differ from L'Oreal written in French.
But the court found that the trademarks are similar in print, pronunciation and number of letters, which together could lead consumers to think the products are from or related to French L'Oreal.
In addition to payment of damages, the Hangzhou firm was ordered to stop using 欧莱雅 in its name.
4. Guangdong
Shenzhen center of counterfeit cellphones
Local authorities recently investigated four Shenzhen companies suspected of making fake Nokia and Sony Ericsson cellphones.
More than 4,000 complete and 550 semi-finished handsets worth 900,000 yuan, or more than $136,000 were seized.
An international center for cellphone research, manufacturing and sales, Shenzhen is also the site of counterfeit brand cellphone manufacturing.
Last year two raids in the city resulted in seizure of large caches counterfeit mobile phones worth more than 2.62 billion yuan.
China Daily
(China Daily 01/19/2011 page17)