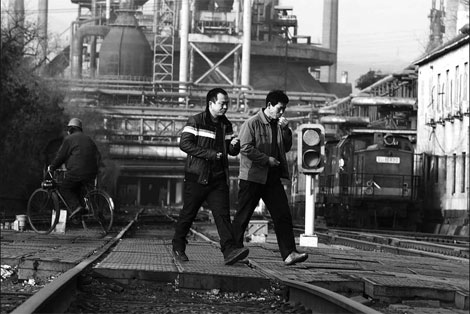 Workers at a Shougang Group plant in west Beijing. The steelmaker stopped all production in the capital in December and officially closed the plant on Thursday. Shougang has moved its factory to Hebei province. Wang Jing / China Daily
BEIJING - Shougang Group, the largest steelmaker in Beijing, finally stopped production in the Chinese capital on Thursday, after a new campus was built in neighboring Hebei province.
The old site of the factory opened in 1919 used to employ 200,000 people and produce almost 10 million tons of steel a year.
The 8.56 square kilometer site in Shijingshan district will be used for new and high-tech industries such as high-end metallic materials and equipment manufacturing as well as cultural and creative industries. By 2015, the output value of the area will be more than 100 billion yuan ($15 billion), according to the group.
The State Council approved Shougang's relocation plan in 2005.
The company said the last hot metal in Shougang was produced in the No 2 steel plant on Dec 19 and the last steel roll was produced on the next day. After that, the production equipment and facilities were removed from the site by the year's end.
Zhu Jimin, chairman of Shougang Group, said the main steel production in the factory stopped by the end of 2010 and a steel museum will be built on its former site.
"It is not a full stop, but a new starting point," said Zhu.
Shougang has established nine steel production bases with 30 million tons of production capacity in recent years. In 2010, the company's steel production reached 31.54 million tons and brought in a sales volume of 220 billion yuan, according to Shougang Group.
Zhu said Shougang's relocation will benefit the capital's environment as well as the development of other industries in the city. The move also serves the company because the development of the capital has limited Shougang's expansion.
Industry insiders said the new factory in Caofeidian, Hebei province has a production capacity of 9.7 million tons.
"The relocation was chosen by the time, the country and the Shougang itself. It is challenging but will definitely bring a brighter future."
China Daily
(China Daily 01/14/2011 page17)