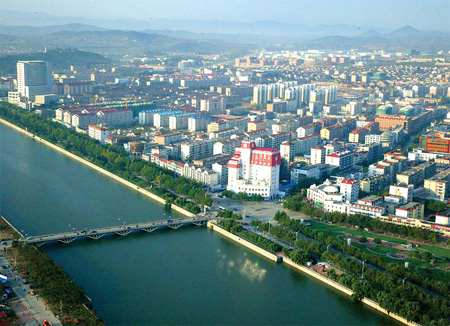 Local government funding to improve both the quality of life and business environment has made the district attractive to both residents and investors. Hou Heliang / for China Daily
District's urban and rural income both show remarkable transformation
One district in the port city of Yantai, Shandong province, has gotten considerably stronger in recent years, thanks largely to the high-tech sector, a local official has told China Daily.
The Fushan district has developed unexpectedly fast, all of its economic targets under the 11th Five-Year plan (2006-2010) having been met, according to Jiang Zhonger, district Party chief.
In just the first three quarters of this year, Fushan had a gross domestic product (GDP) of more than 12 billion yuan. That was a year-on-year increase of 16.4 percent.
"And that figure is expected to exceed 16.9 billion yuan this year, or 16.2 percent more than for last year," Jiang said.
The high-tech sector was the main force behind this growth - its revenues accounted for 43.9 percent of the district's GDP.
Fushan has a number of industrial parks and has become a popular spot for Chinese and foreign investors to park their money.
It started 171 key projects this year, with 36 billion yuan in capital input, and 41 have more than $10 million in backing each, and 10 have Fortune-500-company backing.
The district's total fixed-asset investment is expected to reach 20.8 billion yuan this year.
So, what is it doing with all this money? One area it has put money into this year is healthcare, where it spent 59 million yuan on centers in rural areas.
"Local authorities are working to solve some problems that both urbanites and rural people worry about, such as employment questions, social security, medical care, education, and housing," Jiang explained.
It has developed 1.2 square kilometers of land to provide for affordable housing and has added 640,000 square meters of green land, he added.
As a result, the standard of living has improved considerably, with the per capita disposable income of urbanites expected to grow 12.6 percent and the net income of rural people, 10.5 percent, year-on-year.
For the next five years, the district has already come up with an ambitious plan which focuses on developing the electronic information, petroleum equipment, medical and marine machinery, new energy and creativity sectors.
By 2015, total district industrial revenues are expected to reach 100 billion yuan.
And, GDP is projected to reach 40 billion yuan, with per capita GDP hitting $15,000.
The per capita disposable incomes of urbanites and net income of rural people are both expected to be double the current figures.
(China Daily 12/29/2010 page12)