Gene codes cracked for chocolate and the wild strawberry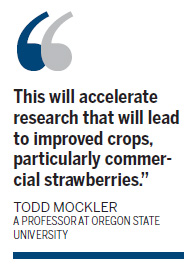 LONDON - Teams of scientists have cracked the genetic codes of the wild strawberry and a certain type of cacao used to make fine chocolate, work that should help breeders develop better varieties of more mainstream crops.
The wild strawberry is closely related to important food crops such as apples, peaches, pears and raspberries, as well as cultivated strawberries, so its gene map will help breeders of these plants to produce new varieties, the researchers said.
"Because farmers have been cross-breeding and hybridizing food crops for centuries to improve traits, they tend to have large complicated genomes, but the wild strawberry's is relatively small so we can get access to all of these useful genes comparatively easily," said Dan Sargent of Britain's Biotechnology and Biological Sciences Research Council Crop Science Initiative, who worked on the project.

Today's Top News
Editor's picks
Most Viewed