Departure gate
Your passport to the latest destinations and airline promotions
Wax presidents coming to DC
A new presidents' gallery is slated to open at the Madame Tussauds wax museum in Washington just before President's Day, the third Monday in February.
The museum announced on Monday that its revamped $2 million-plus attraction will open Feb 17 as the only place visitors can see and touch all 44 US presidents.
The museum is pushing presidents over pop stars after the attraction failed to draw as many paying visitors as expected. The presidents' gallery was originally slated to open by November but was delayed.
Fines, patrols aimed at sharks
Experts investigating an unusual series of shark attacks at Sharm el-Sheikh in Egypt, one of the world's top diving destinations, recommended strict fines for feeding the fish and dumping carcasses in the water.
South Sinai Governor Mohammed Shousha said Egyptian and foreign scientists also suggested building observation towers on the beach and running naval patrols to alert tourists against future shark attacks.
Philly praised for Ho! Ho! Ho!
Despite a brief squabble over its "Christmas Village," Philadelphia was saluted by US Airways magazine for having the best holiday spirit in the land.
The publication has ranked the city No 1 for holiday spirit, putting it above other cities like London, New York and San Francisco, noting the major holiday display put on at Macy's downtown.
The hourly Christmas light show in the department store, along with daily concert performances by the historic Wanamaker Organ and the Dickens Christmas Village, are all indicators of the city's holiday spirit, the magazine says.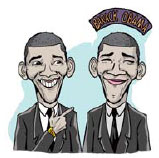 Deep 600 in Arizona
A chance to gaze down into a nearly 600-meter-deep mineshaft is the latest attraction of a new museum in the southwestern US state of Arizona. It belongs to the Audrey Headframe Park in the town of Jerome, where between 1918 and 1938 ores were intensively mined. Arizona's tourism office says that visitors can stand on a glass platform covering the top of the mine shaft. Entry to the museum is free. Also of interest: an "elevator" that was used to transport the miners into and out of the shaft. (www.sedonaverdevalley.org)
Bringing Shanghai to Mons
For those who did not make it to the 2010 World Exposition in Shanghai, the show put on by Belgium can now be seen in the home country. At the Mundaneum Museum in Mons, parts of the Belgian pavilion have been authentically re-erected. Among other things, there is a tunnel where 14 3-D films display the most scenic sites of Belgium, the Wallonia-Brussels Tourism Office said. Tickets cost 8 euros for adults, 5 euros at reduced rates. (www.mundaneum.be)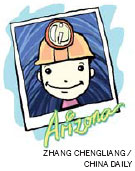 Airline news and deals
Christmas offer: Juneyao Airlines Co launched direct flights from Shanghai to Hong Kong on Dec 17. To celebrate, Juneyao has a special Christmas deal: roundtrip tickets between Shanghai and Hong Kong as low as 900 yuan. Within one month from the launch, passengers traveling between these two cities can have an extra 10 kilograms of baggage free.
Erdos discount: Passengers who take flight KN2290 from China United Airlines from Erdos, Inner Mongolia to Beijing will enjoy a price as low as 240 yuan if they book 21 days in advance; 260 yuan for 14 days in advance and 320 yuan for seven days in advance. The price doesn't include airport construction fee and bunker surcharge.
Flight KN2290 departs at 10:40 pm from Erdos and arrives at Beijing Nanyuan Airport at 11:40 pm.
Hainan Airlines deals: Hainan Airlines Co launches discount tickets in more than 80 flight lines in 25 cities between Jan 1 to 7. Most discounts are between 60 to 70 percent off, but some can be as much as 80 percent off.
Some sample offers from Beijing: to Ningbo 330 yuan, to Shanghai 450 yuan, to Changsha 480 yuan, to Chengdu 500 yuan.
Deutsche Presse Agentur - Associated Press - China Daily
(China Daily 12/26/2010 page16)
Today's Top News
Editor's picks
Most Viewed