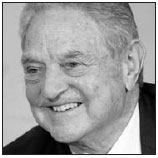 George Soros has been an Esperanto speaker since his childhood.

For a small group of linguists, scholars and dreamers who have become accustomed to having their invitations overlooked, it was no small thing when the billionaire George Soros walked into the room to celebrate with them, The New York Times reported.
Yet there he was earlier this month at their symposium in Manhattan, doling out savory morsels about the object of their fancy: Esperanto, a century-old language fashioned in the almost evangelical belief that giving the world a common, easy-to-learn second language would reduce conflict.
Soros is a Hungarian-American financier, businessman and notable philanthropist focused on supporting liberal ideals and causes.
Soros recounted what it was like growing up in Budapest in the 1930s and '40s in a home where Esperanto was spoken, making him one of the few native speakers in the room, if not the planet. "This story was very much part of my childhood," he said.
His father, Tivadar Soros, was a Hungarian Jew who picked up Esperanto in his 20s and helped start Literatura Mondo, a literary journal that published works in Esperanto, in Budapest. Poets and other practitioners of the new language frequented his house, and when the 17-year-old George Soros left Budapest to seek his fortune in England in 1947, he said, "one of the first things I did was seek out the Esperanto Society in London" as a friendly refuge.
"It was a very useful language," Soros said, "because wherever you went, you found someone to speak with."
The Universal Esperanto Association (UEA), whose membership forms the most active part of the Esperanto community, has national affiliate associations in 70 countries and individual members in 120 countries. "Based on the number of textbooks sold and membership of local societies," its website says, "the number of people with some knowledge of Esperanto is in the hundreds of thousands and possibly millions. There are speakers of Esperanto all over the world, although there are notable concentrations in countries as diverse as China, Japan, Brazil, Iran, Madagascar, Bulgaria, and Cuba."
Of course, Soros didn't exactly drop in to the UEA meeting unannounced: He was presented with the English translation of an Esperanto book that his father wrote, reports Gary Shapiro in the Jewish Daily Forward. "The volume dramatizes the elder Soros' adventures after escaping from a Siberian prison camp" after World War I.
Speakers of Esperanto say that a common language will reduce conflict among neighbors. By conversing in what they describe as "the most widely-spoken constructed international auxiliary language in the world," Shapiro writes, "they trust the world will be better off. In short, for them Esperanto is more than just another tongue to be classified alongside artificial languages such as Klingon.
Bloomberg - China Daily
(China Daily 12/26/2010 page4)