Can you say 'Billionaire' in Esperanto?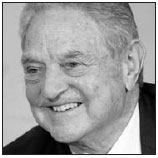 George Soros has been an Esperanto speaker since his childhood.

For a small group of linguists, scholars and dreamers who have become accustomed to having their invitations overlooked, it was no small thing when the billionaire George Soros walked into the room to celebrate with them, The New York Times reported.

Today's Top News
Editor's picks
Most Viewed