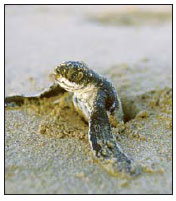 A newly-hatched leatherback turtle on a Costa Rican beach. Provided to China Daily
Scientists and officials from more than 40 countries met up in southern China earlier this month to discuss the biological consequences of climate change on wildlife and raised a few hot-button issues.
Zhang Zhibin, director of the Bureau of Life Sciences and Biotechnology at the Chinese Academy of Sciences hosted the gathering in Kunming, Yunnan province.
He says while people now understand the Earth is getting warmer, what is unknown is how this is affecting wildlife, biodiversity and biological disasters.
"The impacts of climate change on our economies, security and water supply are being studied all over the world, but far fewer people are looking into what are now called the 'biological consequences of climate change'," Zhang says.
While the meeting in Kunming may have lacked the global punch of the recent Cancun summit in Mexico, the agenda was equally as important, focusing on how climate change is affecting animals that spread disease, animals that we eat and wild animals that require our protection.
One example is China's golden snub-nosed monkey. Li Yiming of China's Institute of Zoology says 30 percent of the monkeys at his study site in Hubei province died during unseasonable snowstorms in 2008.
Significantly, the month-long cold spell - billed as the country's worst in half a century - killed more females and infants than adult males.
Li concluded his presentation by saying, "There is an urgent need to understand the benefits and harmful effects of climate change on China's endangered animals."
Climate and temperature changes are affecting gender ratios in other species as well. James Spotila of Drexel University in the United States has been studying leatherback turtles on a small beach in Costa Rica for 20 years. As the region has warmed, he's found that fewer male than female turtles are emerging from their sandy nests.
That relationship between temperature and gender makes sea turtles particularly interesting to climate biologists.
In his summary report, Spotilla writes, "Continued mortality at sea and changing climate continue to threaten the survival of Pacific leatherback turtles."
As to whether those threats can be reversed, Zhang, with the academy of sciences, says he is both optimistic and pessimistic.
"I feel positive because the world is now paying attention to climate change, but I think climate change is only one factor affecting animals, on top of historical problems such as habitat loss and human activity."
The International Society of Zoological Sciences, together with the International Union of Biological Science, held the symposium from Dec 4 to 6, 2010.
For China Daily
(China Daily 12/24/2010 page18)