Former Afghanistan commander McChrystal is penning a memoir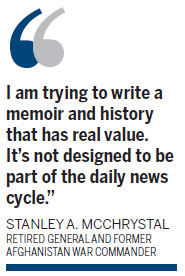 NEW YORK - Retired General Stanley A. McChrystal, the Afghanistan war commander forced out in June after making negative comments about Obama administration officials, is working on a memoir.
McChrystal will write about his recent controversy, but as part of a broader story about his career and changes in the country's military since he was at West Point in the early 1970s, he said on Tuesday in a telephone interview with The Associated Press.
"I like to be thought of as absolutely honest, but I am not seeking to write a combative work," said McChrystal, 56, known for his blunt and uncompromising instincts. "I am trying to write a memoir and history that has real value. It's not designed to be part of the daily news cycle. It's designed to have long-term value."

Today's Top News
Editor's picks
Most Viewed