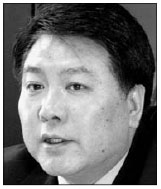 Liu Guixiang, president of the No 4 Civil Court under the SPC
BEIJING - The United States is among the five nations that have the most civil and commercial disputes with China, according to a senior official from the Supreme People's Court (SPC).
Liu Guixiang, president of the No 4 Civil Court under the SPC, said the US is joined by Japan, South Korea, Germany and Britain in the top five. Together, they accounted for 40 percent of foreign-related civil and commercial cases handled by Chinese courts this year.
"These countries' closer economic and trade exchanges with China and their expanding investment in China have contributed to their growing number of commercial disputes with the country," he told China Daily in an exclusive interview.
According to Liu, the disputes were usually connected to foreign stocks, bonds, notes and credits, as well as the dissolution and liquidation of foreign-funded enterprises and other issues related to foreign investment.
A total of 13,191 foreign-related cases went before the courts during the first 11 months of the year, a year-on-year increase of 15 percent, according to the SPC.
The vast majority of the cases - 96 percent - were civil and commercial. Only 4 percent of the files were criminal.
Liu said more than 5,000 judges in 167 intermediate courts and 67 district courts across the country are able to hear foreign-related civil and commercial cases.
He said China pays particular attention to protecting the legitimate rights of litigants from home and abroad.
"Almost all the cases were heard in public and we published the verdicts online as a major way to eliminate local protectionism," he said.
But Liu acknowledged that foreign-related commercial cases involve more complex procedures and require a high degree of professionalism, which can add a layer of complexity to proceedings.
"In cases where foreign laws are applicable, it can be difficult for the judges to accurately apply the foreign laws because of differences in legal terms, ethics and interpretations."
He said barriers that can get in the way during trials include the sending and receiving of judicial documents, checking the identities of foreign litigants and obtaining foreign evidence, as well as conflicts with foreign courts and arbitration institutes.
In order to improve trial efficiency, the country will promote the establishment of a settlement mechanism, such as a national and international arbitration institute, as well as mediation channels, Liu said.
China has joined three multilateral international conventions - the Hague Service Convention, Hague Evidence Collecting Convention and New York Convention - and has signed bilateral judicial assistance agreements with more than 30 countries.
Feng Xia, a professor at China University of Political Science and Law, said the rise in the number of foreign-related civil and commercial cases suggests there is an improved legal environment in China.
"It shows that more foreign litigants prefer to apply for Chinese law and procedures to hear the cases in the Chinese courts," he said.
Cao Yin contributed to this story.
China Daily
(China Daily 12/18/2010 page2)