What's new
Kay Tse's Mandarin album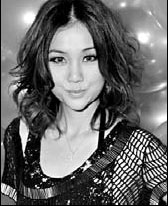 Cantonese singer Kay Tse was in the capital recently to promote the release of her first Mandarin album Second Home.
The singer entered the Hong Kong music industry in 2005 with her debut album Kay One and rose to fame for her special rendition of jazz. The album reached the No 1 spot on Hong Kong's Billboard chart. She has released seven albums so far.
Like many acclaimed Hong Kong singers, the 32-year-old is not well known on the mainland. She has reportedly tried hard to perfect her Mandarin pronunciation for her new songs and even incorporated some Peking Opera elements in it.
Spirit of patriotism
China Philharmonic will fly to Haikou, Hainan province, for a New Year Eve performance, in collaboration with the Song and Dance Ensemble of the Political Department of the Chinese People's Liberation Army, for the first time.
The concert will feature such singers as baritone Yuan Chenye, and folk singers Gao Baoli, and Wang Lida. It will be divided into four parts with many popular Chinese patriotic songs, in celebration of the 90th anniversary of the founding of the Communist Party of China.
Documentary film forum
Renowned documentary makers from eight countries including the United States, France, the Netherlands, Australia and Sweden participated in the 2010 Beijing International Documentary Forum held at the Beijing Film Academy from Dec 11 to 16.
The forum discussed every aspect of documentary making - from the research and script writing, to the production and direction.
Twenty award-winning documentaries made during the past three years were also screened, marking the first time they were being officially shown in public in China.
Whampoa Academy in focus
The launch ceremony for Whampoa Academy, a 12-episode documentary about the cradle of China's modern revolutions and military reforms, was held on Dec 16 in the Great Hall of the People.
Co-produced by China Central Television and Central Studio of News Reels Production, the documentary is helmed by Liang Bibo, an award-wining director who will lead his crew to conduct detailed interviews with former graduates and their offsprings across the Strait to present the history of the prestigious military academy.
The ceremony was attended by retired high-ranking generals from Taiwan and hundreds of relatives of Whampoa Academy graduates from Hong Kong, the United States and Canada.
China Daily
(China Daily 12/18/2010 page11)
Today's Top News
Editor's picks
Most Viewed