China targets foreign trade 'balancing'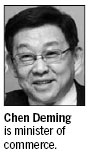 BEIJING - Against a backdrop of a high trade surplus and protectionist measures targeting China strengthening, China is committed to "balancing" foreign trade through "stabilizing" exports and "boosting" imports over the next five years, the minister of commerce said.
"There are uncertainties in global economic prospects (over the next five years), but China has no choice but to go ahead," Commerce Minister Chen Deming said.
The ministry's five-year plan will focus on "making foreign trade more balanced and improving the quality of goods for export by way of innovation", he said.

Today's Top News
Editor's picks
Most Viewed