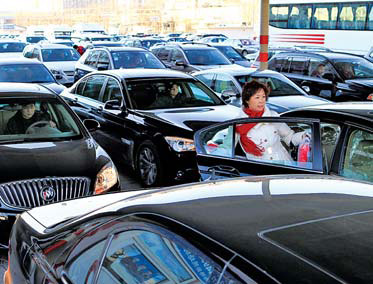 Drivers wait at Beiyuan Vehicle Inspection Center in Beijing's Chaoyang district on Tuesday to get their license plates registered. Feng Yongbin / China Daily
Christmas shoppers in desperate search for a deal on wheels. Cui Jia in Beijing reports.
Take a sneak peek at a Christmas list drawn up by any Beijinger and chances are it includes a new car - or, to be precise, a new license plate.
People have been desperate to get their hands on this year's festive "must-have" since the announcement of plans to restrict vehicle purchase and registration in the capital from Jan 1.
The move, which has essentially already won the backing of the State Council, is aimed at solving the crippling traffic congestion that blights Beijing. If successful, the model could be copied in other Chinese cities.
Exactly how the government will curb car sales is unclear, although many potential buyers are unwilling to take a chance by waiting to find out.
"I heard the authorities might restrict people without the Beijing hukou (permanent residency), like me, from buying cars," said Li Sisi, 26, who moved to the capital from Xi'an, Shaanxi province. "That's why I need to buy one now."
Other potential buyers said they fear the current tax rebates and trade-in subsidies will be canceled when the new regulations come into force.
Car showrooms are playing it cool this winter, with many scaling back on their usual seasonal promotions. Yet, the buyers keep coming.
Li Sisi, who runs an online store, was among thousands who flocked to Yayuncun Car Market, Beijing's biggest dealership, last weekend to seal a deal.
"Originally, I really wanted a red Volkswagen Polo but now I don't have any color preference and I'm willing to pay more than other people to get a car," she said.
Like many others, she discovered that buying a car these days is by no means easy, with popular makes and models largely sold out citywide.
In contrast to previous months, when showrooms have relied on discounts and promotions to lure in customers, salesmen and women at Yayuncun said demand surged in the first half of December, with sales of some models even doubling.
More than 20,000 vehicles were sold in the first week of December alone, more than twice the number during the same period last year.
Beijing buyers snapped up roughly 96,000 cars throughout November, a year-on-year rise of 33 percent. That figure is expected to hit 100,000 this month as residents rush to take advantage of the tax incentives before they are scrapped.
"Forget discounts; people will have to pay more money if they want to drive their cars away from the showroom before Jan 1," said Lu Qiming, a Volkswagen salesman at the mega-market. "I wish I had more cars to sell."
The draft of Beijing's traffic management plan, which was released on Monday, also states government agencies will be barred from buying more vehicles during the 12th Five-Year Plan (2011-2015).
Municipal authorities own about 700,000 vehicles, almost 15 percent of all those registered in the capital, show officials statistics.
Slow going
Traffic conditions in Beijing have been worsening for decades. At first, commuters only complained about jams during rush hours, but today practically every hour is rush hour.
"Say 20 years ago, owning a car was just a dream for most Chinese. Now that more people have cars, the dream has truly become a nightmare," said taxi driver Wang Huidong, 56. "If the average life expectancy of Chinese is 70, Beijingers actually only get 50 years because we waste 20 in traffic jams.
"(The authorities) can keep adding highway lanes but people are already buying the cars to fill them with," he added.
Roughly 4.7 million vehicles are already on Beijing's roads, with an average of 2,000 more joining them every day, according to data from the city's commission of transport.
At this rate, by 2015, the city will have 7 million cars on a road network that can accommodate a maximum of 6.7 million vehicles - and that is only if the license plate ban that stops private cars from using urban roads for one working day stays in force.
Studies by the Beijing Transportation Research Center show that, if action is not taken to curb the current trend, average speeds will drop to below 15 kilometers an hour within five years.
Speeds in the first half of this year hovered around 24.2 km/h during weekday morning rush hours, 3.6 percent slower than last year.
Zhao Jie, director of the China Academy of Urban Planning and Design's transportation research institute, said poor city planning is largely to blame for Beijing's traffic woes.
"As more than 50 percent of businesses and government agencies are based in central areas, where property prices are high, people have to live far away from their workplaces," he said. "These commuters are forced to put up with a crowded and often unreliable public transport system and feel they have no choice but to buy cars."
Before governments start restricting personal car use, Zhou suggested city officials "build more subways and put more buses on the road to give people an attractive option".
Accountant and long-suffering commuter Liu Tao could not agree more.
The 28-year-old accountant lives in Tiantongyuan, a large apartment complex that houses 300,000 residents on the capital's northern outskirts, and makes a 52-km round trip to his office in the Central Business District every day.
When he moved in three years ago, he regularly traveled on the subway, taking Line 5 all the way to Guomao station, "but it drove me absolutely insane", he said.
"I had to wait for three or four trains to go by before I could squeeze on during rush hours", jostling for position with thousands of Tiantongyuan residents, recalled Liu, who hails from Jiangsu province. "I frequently had nightmares about being suffocated in an overcrowded subway train.
"Every day I prayed I would get out alive and in one piece."
Traumatized by his underground experience, Liu bought a car in 2008, swapping one daily grind for another. He now spends an average of five hours in traffic jams every day.
"If it's a choice between being trapped on the subway for three hours or stuck in traffic for five, I choose the latter. At least I have my own space," reasoned the accountant. "The government wants people to drive less but public transit is so unattractive. That's why the appeal won't work."
Commuter options
Officials with the commission of transport acknowledge that bus and subway networks in the capital are far less developed than in other international cities, such as London and New York (the subways in both cities are almost double the size of Beijing's).
According to the draft traffic management plan, municipal authorities will next year take various measures to improve public transport, including speeding up infrastructure construction.
"It's possible for public transport to thrive, even if there are more autos on the road, but it depends on the cost and ease of car ownership and the quality and availability of the alternative options," said Zhao at the China Academy of Urban Planning and Design.
In European countries and parts of the United States, he explained, car ownership may be widespread but operating costs - fuel prices, parking and sometimes congestion charges - are expensive, while parking is not so readily available.
Research has also shown that if commuters are offered incentives to ride public transport and services are reliable, car usage can be reduced.
Car owners do not perceive driving as the only way to get around, but rather as one option among many, said Zhao, who added: "Given a choice, people will choose the most appropriate and convenient mode of transport."
China overtook the US last year as the world's largest car market and now has 199 million vehicles on its roads, with another 20 million added every year, according to official statistics.
However, the nation's economic success (it has the second-largest economy) means it faces the policy equivalent of having one foot on the accelerator and one foot on the brake.
Although the central government has spent billions on roads and railways, two-thirds of cities suffer chronic congestion.
Beijing is arguably the most notorious for lengthy traffic jams. Cars and trucks often queue for hours in rush hours, and the gridlock looks set to only get worse. In August, hundreds of drivers endured a nine-day, 100-km jam caused by construction on a highway leading into Beijing.
Meanwhile, anti-car campaigners argue that the environmental and economic costs far outweigh the profits made by the auto industry.
Whether the capital can successfully cure its traffic ills remains to be seen, but one thing is certain: other major Chinese cities will be looking on with keen interest.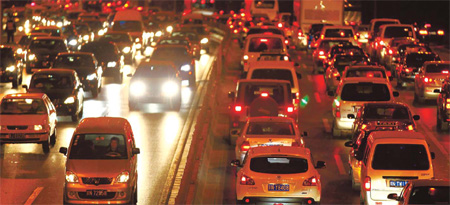 Commuters wait nose to tail on the Third Ring Road in Beijing during rush hour last weekend. Traffic congestion in many cities has severely worsened in the last few decades, with more cars adding to the problem every day. Wang Jing / China Daily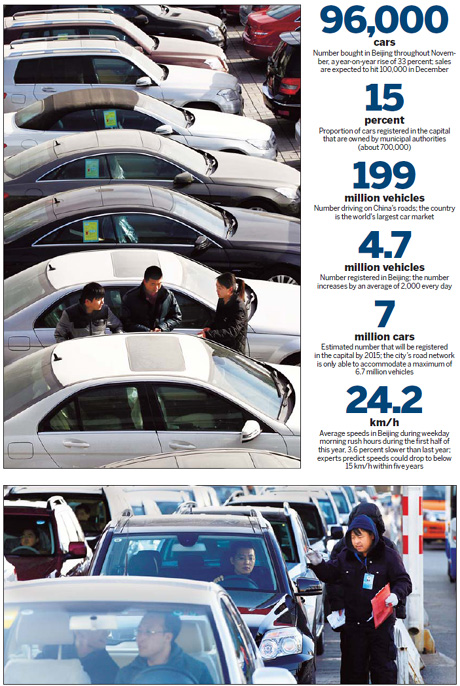 Top: Business is booming this month at Yayuncun Car Market, Beijing's biggest dealership, after plans were announced to restrict vehicle purchases in the capital from Jan 1. Wang Jing / China Daily. Above: Newly owners wait for routine vehicle checks at the city's Beiyuan testing center. Feng Yongbin / China Daily
(China Daily 12/16/2010 page1)