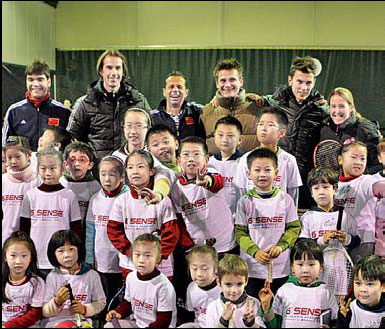 Seven-time Grand Slam winner Justine Henin (right in the last row) poses with Chinese young tennis players and staff during her clinic at the Beijing Potter's Wheel International Tennis Center on Monday. Provided to China Daily
BEIJING - Nearly a year after setting up a branch of her 6th Sense Tennis Academy in Beijing, seven-time Grand Slam winner Justine Henin finally came to town on Monday in her first trip to China and shared her experience with local fans.
"It is really my pleasure to be here. This is not only my first time to the academy in Beijing but also my first trip to China. The trip is very exciting," said Henin at the Beijing Potter's Wheel International Tennis Center, which hosts the branch of her academy.
"I want to share a lot with kids after so many years on the tour, not only about tennis, but also about our philosophy on sports and even on life as a whole," said the former world No 1, who returned to professional tennis in January after a 19-month layoff from the sport.
Henin set up her branch at the Potter's Wheel International Tennis Center in February, shortly after Zheng Jie and Li Na created history for China by reaching the semifinals of the Australian Open.
Not surprisingly, Henin spoke highly of the potential of Chinese tennis and said she found it interesting to be involved in the course.
"It's great that we can work together to promote tennis in China. With Carlos (Rodriguez, her coach) and the team, and the Chinese coaches, we look forward to long-term success. Trust us, we'll be great," she said.
"I hope Chinese players will be world No 1s and win Grand Slams. I strongly believe in the future of China's tennis. That's why I am here."
The branch in Beijing is the third academy she has opened, after the first in Belgium (2007) and a second in the United States (2008).
"It was important to open the first academy in Belgium because that's where I came from. The second one was in the US, near Orlando, and I learnt a lot there," Henin said.
"As for China, the potential is very high and Carlos told me he met very good people here. After the Beijing Olympics, Chinese tennis started to mature. This is a big country and this is a big opportunity. We just met the right people at the right time."
China Daily
(China Daily 12/14/2010 page24)