CPI reach 28-month high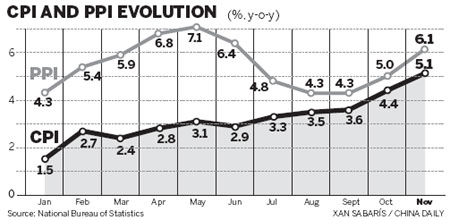 BEIJING - China's consumer price index of November rose by 5.1 percent year on year, the fastest clip in 28 months, giving rise to greater concern over tightening measures from both consumers and analysts.
The main gauge of inflation climbed by 0.7 percentage point from October's 4.4 percent, driven by an 11.7 percent surge in food prices, which accounted for a third of the CPI basket. A 5.8 percent hike in residential prices also fueled inflation, said the National Bureau of Statistics (NBS) on Saturday.
From January to November, China's CPI rose 3.2 percent year on year, surpassing the government's targeted ceiling of 3 percent for 2010.

Today's Top News
Editor's picks
Most Viewed