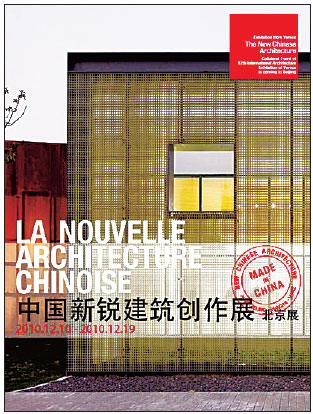 Exhibits
La Nouvelle Architecture Chinoise
This exhibition, also called New Chinese Architecture, is one of the events of the 12th Venice Architecture Biennale, which officially opened on Sept 25 in the Ca'Asi Exhibition Center in Venice.
A competition was held earlier this year that was the focus of Chinese, French and Italian architects. It attracted over 150 Chinese competitors (architects and students) from across China, France, Britain, the US, Australia and various other countries and regions.
The results were decided in July with 11 individuals or group exhibitors, including three winners and one special award, being selected in Paris by an international jury composed of famous architects and experts. The award ceremony was held in the Acadmie d'architecture in Paris, where Jean-Pierre Raffarin, the former Prime Minister of France, handed prizes to the three winners.
Following the success of the New Chinese Architecture exhibition in Venice, it is now on display in Beijing.
Dec 10 to 19, 11 am-8 pm. Club Baiziwan 21, 21 Baiziwan Road, Chaoyang district, 6773-9681.
北京百子湾路21号会所
So-Il: To Be Determined
After designing the pavilion at this year's Get It Louder exhibition, New York-based firm So-Il (Solid Objectives - Idenburg Liu) returns to Beijing with a month-long exhibition at Studio-X.
This multimedia installation is the outcome of collaborations with artists including Iwan Baan and Paula Hayes.
In their boundary-crossing designs, here represented in video, photographs, shadow projections and models, Jing Liu and Florian Idenburg offer a new cultural definition of sustainability.
Dec 10 to Jan 8, 11 am-7 pm. Studio-X Beijing, A103, 46 Fangjia Hutong, Dongcheng district, 6402-8682.
Events
Photo auction: Sands and waters
Greening the Beige, in collaboration with Red Gate Gallery, is presenting a private showing of China's Threatened Waters on Dec 10 by award-winning photojournalist, Sean Gallagher.
The event will feature a special multi-media presentation. Gallagher's work explores the series of wetland regions documented in his second project, made possible by The Pulitzer Center for Crisis Reporting.
All signed and framed prints from China's Threatened Waters, in addition to a special edition from his desertification project last year, China's Growing Sands, will be auctioned to help raise money for public exhibition costs, with all proceeds going to support The Mangrove Action Project (MAP) in Guangdong province.
As one of the featured non-profit organizations, MAP focuses on education and restoration projects, where local Chinese conservationists are trained and included in field research activities.
The evening will include an open bar served by The Wine Republic and selection of Asian tapas prepared by The Hutong.
RSVP is required to attend: morgan@thehutong.com
Dec 10, 8 pm-10 pm. The Hutong, 1 Jiudaowan Hutong Beixinqiao, Dongcheng district, 159-0104-6127.
东城区九道湾胡同1号
Stage: Revel's World of Shakespeare
Revel's World of Shakespeare was written and will be performed by Joseph Graves, and directed by Xiaoqing Hu.
Graves draws heavily on his considerable personal experiences with Shakespearean plays.
Over the last 27 years, Graves has directed over 50 stage productions, including classical, contemporary, musical theater and opera, in US, UK and China. Such productions include Romeo and Juliet, Richard III and A Midsummer's Night Dream, at venues that include The Welsh National Theatre and The Royal Court Theatre.
He has also appeared in an acting role in over 100 roles and dozens of television productions, performing such famous characters as Hamlet, Henry V, King Lear and Richard III.
Finally, Graves has written for film and stage, including such films as Sweetwater for Viacom and such plays as Revoco.
Dec 10 to 11, 7:30 pm. Central Academy of Drama North Theater, 39 Dong Mianhua Hutong, 6417-7845 or 400-610-3721.
东棉花胡同39号中央戏剧学院
Stage: Orpheus in the Metro
Orpheus in the Metro is a disturbing one-man show based on a short story by Belgian/Argentinean writer Julio Cortzar.
The premise is terrifying. The unnamed man stalks women in the Paris subway system and the irony of the play's title is obvious. The man's dangerous game is to try and guess the final destination of the woman of choice. If he is correct, his reward will be the go-ahead to make personal contact.
This performance, at Penghao Theater, will be given by Tel Aviv-based Malenki Theatre. The theater's principal is to mirror the intimacy a person feels when totally absorbed in a good book.
The set is a black wall and narrow floor, mirroring a subway platform with the audience strung along the horizontal rim. The set is also a blackboard.
Performed in Hebrew with English and Chinese subtitles.
Dec 10-11, 7:30 pm. Penghao Theater, 35 Dongmianhua Hutong (off Nanluoguxiang), 6417-7845 or 400-610-3721.
东棉花胡同35号蓬蒿剧场(中央戏剧学院东侧)
(China Daily 12/09/2010)