Fosun to invest billions as it goes for global expansion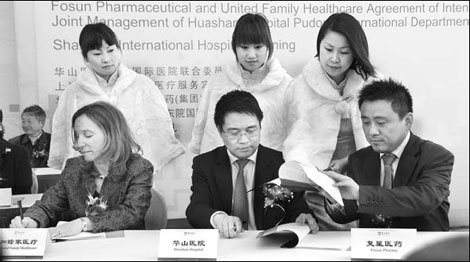 Representatives of Fosun Pharma, United Family Healthcare and Huashan Hospital sign a contract to manage the international clinic at Huashan Hospital. Fosun has been aggressive in international investment, including buying stakes in United Family and Club Med. Xu Hede / for China Daily
BEIJING - Dealmakers, brokers and bankers with black portfolios containing information on European companies or stakeholdings for sale are fervently knocking at the doors of Fosun, the largest privately owned conglomerate in China.
This comes after Guo Guangchang, Fosun's chairman and one of China's wealthiest people, said in Hamburg, Germany, at the end of November that he is eyeing expansion in Europe through mergers and acquisitions.
Qian Jiannong, who is tasked with finding potential deals to power Fosun's global expansion, is spreading the word that the focus is on established brand names, market share in Europe or worldwide and willingness to enter China.
"If any company meets those three criteria, Fosun will be happy to be its partner," he told China Daily.
"We arenot onlyinterested in acquiring European luxury brands, we are also interested in buying companies in consumer sectorswith famous brands, which will be the growth industries in China in the next 10 years."
Other attractive branches for acquisition include the technology and pharmaceutical sectors.
Fosun's 7.1 percent acquisition of Club Med's share capital on June 13 provides a good example of the Chinese group's cooperative European entry strategy, Qian said.
Without going into specifics, he said Fosun could invest up to $2 billion in a single deal. Initial investments will be limited to between $131 million and $264 million each.
Funding for the deals will come mainly from the group's net cash flow.
During the first six months ended June 30, the group raised 10.75 billion yuan ($1.62 billion), in which Fosun signed a $140 million three-year loan with a syndicate led by Credit Agricole. In addition, Fosun Pharma, raised 635 million yuan with the issuance of non-tradable shares.
"Fosun is willing to help those European companies to develop in China," he said, adding that potential retailers stand to benefit from Fosun's strong background and hands-on experience in retail and consumer chains, especially in gold and jewelry retail and brand chains.
Fosun owns the listed Shanghai Yuyuan Tourist Mart Co Ltd, a retailer renowned for managing department stores and entertainment outlets in Shanghai. It has 37 million customers annually.
Expo 2010 Shanghai also directly benefited Fosun's Shanghai Yuyuan Tourist Mart, with a daily visitor traffic of up to 100,000, almost double that of the same period last year.
"As for Club Med, we can help it attract Chinese tourists to its resorts around the world. We can helpcompanies like ClubMedbenefit from China's growth momentum," Qian said.
China had 1.9 billion domestic travelers in 2009, and growth is projected to continue at a double-digit rate. Tourism revenue amounted to 1 trillion yuan.
In addition, the number of private travelers abroad hit 40 million.
On Nov 27, Club Med established with Fosun's help its first Chinese ski resort in the mountains of Northwest China at Yabuli, marking the beginning of the French holiday company's expansion into China.
Club Med speculates that by 2015, China will be its second-largest market, and it plans to open five resorts in four years in key locations in the provinces of Hainan and Yunnan.
China Daily
(China Daily 12/09/2010 page14)
Today's Top News
Editor's picks
Most Viewed