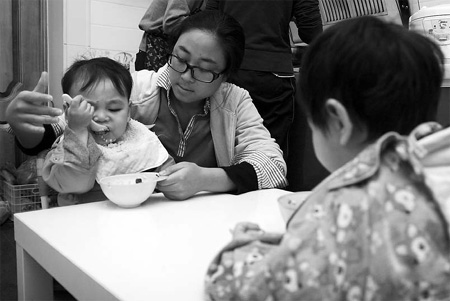 A staff member from Home of Children's Hope orphanage in Beijing's Cang Ping district helps feed the children. The orphanage has about 20 orphans, who are carefully looked after by staff. Provided to China Daily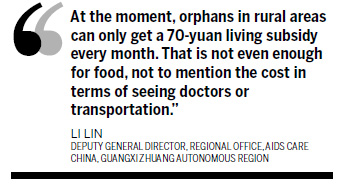 Improvements in care for children without parents put into practise
BEIJING - Xiao Qi (not her real name), hid behind a bed and crouched in a dark corner when a few strangers visited her house one day in November 2009.
Wang Wenlian, the principal of Beijing Fangshan Angel Training School (BFTS), a non-profit school for orphans, was among the visitors.
Wang heard from the local women's federation at Guangning county, in North China's Shanxi province, that Xiao lost her father who killed himself with poison after her mother developed a severe mental illness.
After Xiao's mother returned to her original family, Xiao lived a hard life with her grandmother and a younger brother on a living allowance of 720 yuan ($109) every year.
With the permission of Xiao's grandmother, 6-year-old Xiao was brought to Beijing and fostered in Wang's school, where more than 70 orphans live and study.
According to the latest statistics released by the Ministry of Civil Affairs, there are some 712,000 orphans in China, a 24 percent rise compared with the year 2005. About 86 percent of them live in rural areas.
"At the moment, orphans in rural areas can only get a 70-yuan living subsidy every month. That is not even enough for food, not to mention the cost in terms of seeing doctors or transportation," said Li Lin, deputy general director of the regional office of AIDS Care China (ACC) in the Guangxi Zhuang autonomous region.
Li told China Daily that ACC has run an orphanage for AIDS orphans in Nanning, the capital of the Guangxi Zhuang autonomous region in Southwest China, since 2006. The orphanage fosters 17 children, some of whom are HIV-positive, and employs six teachers to tare care of the children.
"It is really difficult to hire male teachers and psychological counselors to work for our orphanage," Li said, adding that the reasons lie in not only low payment but also the poor social recognition of the job.
However, the situation may improve gradually for orphans and those who take care of them.
Social protection for orphans was discussed at a State Council executive meeting for the first time on Oct 12. It was chaired by Premier Wen Jiabao.
A circular adopted at the meeting stated that governments at all levels should take responsibility in safeguarding orphans' basic welfare.
The notice clarified that, in order to establish a sound social protection system for orphans, governments should work on diversifying ways of adoption, offering financial support and expanding the coverage of medical insurance for this vulnerable group of children.
Supportive policies in terms of education, employment, housing and capacity building for orphanages were also addressed in the circular.
The central government promised to earmark 2.5 billion yuan for this mission in 2010, with the sum to be adjusted every year according to the number of orphans.
Local governments will also be required to allocate resources to ensure a basic living standard for orphans.
Yin Yin Nwe, UNICEF representative in China, said this policy is an important turning point that shows China moving toward "a universal child welfare system".
"This is a great turning point, but also a huge challenge," Wang Zhenyao, former director of the social welfare and charities department in the Ministry of Civil Affairs, was recently quoted by China Philanthropy Times as saying.
Song Wenzhen, an official with the National Working Committee on Children and Women under the State Council, told China Philanthropy Times that, for the next step, it is important to lay down concrete operating rules in terms of how the money will be distributed and used in order to serve the best interests of orphans.
Children become orphans for different reasons, so their specific needs vary: Children who have become orphans as a result of natural disasters may require additional psycho-social support; likewise, AIDS orphans need extra measures to combat stigma and discrimination, Nwe told China Daily via email.
"All this means that we need to conduct needs-assessment carefully and then design more detailed policies according to the specific situations," she added.
For effective implementation of this policy at local level, a well-developed monitoring system, which tracks the situation of orphans and feeds the information back to decision-makers, also needs to be established, Nwe said.
China Daily
(China Daily 12/06/2010 page20)