DPRK attacks the new ROK defense chief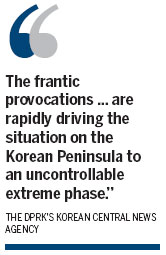 SEOUL - The Democratic People's Republic of Korea (DPRK) lambasted the new defense chief of the Republic of Korea (ROK) on Sunday for threatening to launch air strikes against the DPRK and accused the ROK of causing "uncontrollable, extreme" tension on the peninsula.
ROK Defense Minister Kim Kwan-jin told a confirmation hearing last week that jets would bomb the DPRK if it stages another attack like the shelling on an island that killed four people. Kim took office on Saturday, replacing a predecessor who resigned amid criticism that the ROK's response to the Nov 23 shelling was too slow and weak.
Pyongyang's official Korean Central News Agency (KCNA) issued a statement on Sunday accusing the ROK of staging a series of "frantic provocations" including the defense minister's remarks.

Today's Top News
Editor's picks
Most Viewed