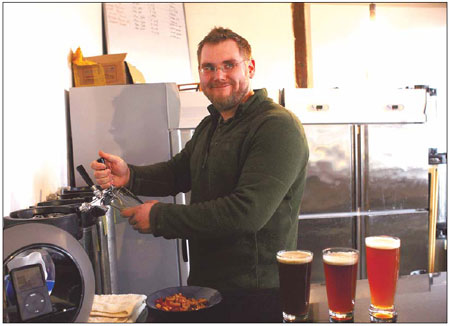 Carl Setzer, owner of Great Leap Brewery, pours a glass of his homemade ale. Photos by Zou Hong / China Daily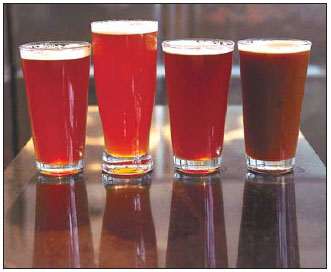 From left: Cinnamon Rock Candy Ale, Honey Ma Blonde, Pale Ale #6, Oatmeal Porter.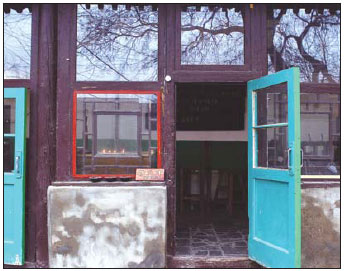 Doujiao Hutong, where the brewery is based, has had little decoration work done in order to keep the focus on the beer.
US beer lover taps into the microbrewery market
Beer lovers often despair at the quality of brews available in Beijing.
The bland, low-alcohol local beer is sometimes only chosen because of its extremely affordable price, while imported bottled beers cost too much and are often stored poorly.
What all beer lovers crave is a glass of expertly crafted ale on tap - something that isn't mass-produced or made to fill a gap in the market. There have been few places that have attempted to fill this void, until now.
Great Leap Brewery, in the Gulou area, is one of the best things to happen to Beijing's beer scene for the last decade. Someone has finally overcome all the challenges that setting up and making fantastic beer can entail in China.
That someone is Carl Setzer, a Cleveland native with German ancestry who has lived in and out of China since 2004.
His grandparents were from Frankfurt and his great-grandfather worked at a brewery in Germany.
Tales of the artistry of European beer, mixed with an exposure to a big microbrewery culture in northeastern Ohio, have given Setzer a real passion for craft beer.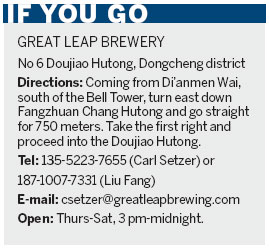 It was his marriage to Chinese native, Liu Fang, that sparked the reality of opening a brewery in Beijing.
Setzer, who moved to the capital in 2007, had long told Liu of his desire to open such a place. However, she firmly believed all beers tasted similar, since only having been exposed to Chinese products.
After their honeymoon in Laos and further trips to Belgium and the Netherlands, her outlook was transformed.
Together, they set about creating Great Leap Brewery and have been perfecting their brewing techniques for the best part of a year.
It may seem a simple concept to open up a beer microbrewery in China, but this was not the case. Setzer was warned that he might not be able to make the beers he wanted because of a scarcity in local malt varieties, but he persevered regardless. He has now honed new recipes and a number of beers, using only local malt.
Currently there are four beers available: Pale Ale #6, Oatmeal Porter, Cinnamon Rock Candy Ale and Honey Ma Blonde.
The pale ale and porter are their regular standard beers, retailing for 25 yuan per 330ml glass. Other beers go for 35 yuan per glass.
In the spirit of real craft brewing, Great Leap will continue to offer new beers every few weeks, such as strong Pumpkin Ale, Chocolate Stout and many others already in the offing.
If these beers are anything like the quality of the current selection, beer lovers won't be able to get enough.
Having tried all four beers, the Pale Ale #6 and the Honey Ma Blonde were perhaps the best. The other two are both well made, but the balanced hoppiness and good alcohol content (5.7 percent) of the pale ale make it a beer to never get bored of.
The Honey Ma Blonde beer uses numbing majiao, brought in from Sichuan, to add a tangy punch that is offset by top-quality honey from a small apiary in Shandong.
Great Leap is located in a courtyard residence. The decor has been kept as rustic as possible, in keeping with a commitment that beer alone is the focus of the brewery.
No food is available, although spicy peanuts and imported malted grain as snacks are a nice touch to keep drinkers content.
They also offer takeaway services, with 1 liter "Growlers" available at 60 yuan and 80 yuan respectively, plus 30 yuan deposit for the bottle if you don't bring your own.
The simple fact is that this place has no gimmicks or frills - it makes some of the best beer in town.
"People in China deserve great quality, locally-produced beer," Setzer said. Great Leap Brewery has certainly delivered.
For China Daily
(China Daily 12/02/2010)