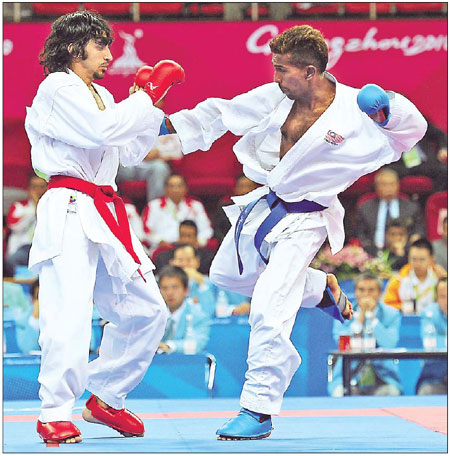 Emad Mohammed Al Malki of Saudi Arabia (left) competes against Puvaneswaran Ramasamy of Malaysia in the men's -55kg karate at the Asian Games on Wednesday . Mike Clarke / Agence France-Presse

Ramasamy enters record books with fifth straight podium finish at games
GUANGZHOU - Malaysia's seasoned Puvaneswaran Ramasamy used his mental advantage against younger rivals to grab his second karate gold and write his name into Asian Games history on Wednesday.
Ramasamy, 36 next month, beat Saudi Arabia's Emad Mohammed Al Malki by decision in the 55kg kumite (sparring) final to become the first karate competitor to climb the podium at five straight Asian Games.
There have only been seven athletes to achieve such a feat in any sports.
"It feels great. The match was very close," said Ramasamy, who lost to Al Malki at the last Asian Championships.
"This time I used my experience and tried my best to beat him."
On the first day of karate action, another Malaysian Jin Keat Ku broke Japan's monopoly of kata (demonstration of forms) since karate made its Asian Games debut in 1994. He beat Japan's Itaru Oki 3-2 in the men's final.
"Most other players are in their 20s. But in my journey through karate I have gained mental strategy," Ramasamy said. "I have used that to win."
"This is my last Asian Games. Now I want to become a coach. It is up to the National Sports Council of Malaysia to decide my future."
He said an acting career could be another option following in the footsteps of Jackie Chan and Bruce Lee who had been "very influential on my career and life".
"If I have the chance to become a martial arts movie star, why not have a try? Just wait and see."
His Asiad medal collection includes another 55kg gold from Busan in 2002, one silver and two bronze dating back to 1994 when karate made its debut.
In the quarterfinals, Ramasamy needed a judges' decision to overcome Chinese Taipei's Hsieh Cheng-kang, who beat him in the Doha final. He outpointed Asian champion Ghasemi Laskoukalayeh of Iran 1-0 in the semifinals.
In the men's over-84kg kumite final, Iran's Zabiolla Poorshab beat Indonesian Umar Syarief 7-3.
World champion Li Hong of China duly won the women's 50kg kumite gold by beating Vietnam's Thi Nguyet Anh Vu 2-0 with two decisive punches.
Rei Usami won the women's kata by overwhelming Chinese Taipei's Huang Yu-chi 5-0 in the final.
"I'm glad that I have protected the pride and honour of Japan," the 24-year-old said.
Malaysia's Lee Lee Lim, 35, took a bronze in the women's kata for her fourth Asian Games medal - the silver in 2002 and a bronze each in 1998 and 2006.
"Karate is one of the most popular sports in Malaysia," she said, adding the country's sports authority has been supportive of karate competitors. "So we have been doing well in competitions."
Japan has faced increasing competition in karate since winning nine out of 11 titles in 1994. In 2006, its haul stood at just four against three for Iran and two for Kuwait. Vietnam, Chinese Taipei, Kazakhstan and Uzbekistan won one each.
Agence France-Presse
(China Daily 11/25/2010)