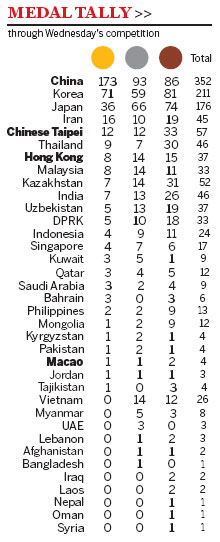 Korea took gold in the men's and women's 10,000m points and elimination roller races at Guangzhou Velodrome.
Korea's Woo Hyo-sook won gold in the women's event, 11 points ahead of silver medalist Guo Dan of China.
In the men's race, Korean Son Geun-seong's 26 points won him gold. His teammate, Choi Gwang-ho, was a point behind to claim silver.

Spiker Aishath Nazima of Maldives was taken from the volleyball court on a stretcher after fainting during the placement 9-11 match against Tajikistan.
"She was walking on to the court when she fainted. She is fine now. She is warming down," team official Hussain Mohamed said.
Nazima received assistance from medical staff before being taken from the field of play.
Despite the incident, the Maldives notched its first win of the games with a 3-0 victory over winless Tajikistan.

Men's Greco-Roman 84kg competitor Jakhongir Muninov of Uzbekistan failed a drug test, officials said.
OCA medical committee officials said he failed a pre-event competition urine test taken on Nov 19.
Three players were ejected for violence during Kuwait's 9-7 victory over Saudi Arabia in their classification water polo match at Tianhe Natatorium.

There were isolated incidents throughout the match, with the last misconduct foul 6 seconds from the time when Malik Tatal Amokhtar of Saudi Arabia threw a punch at goalkeeper Mohammad AAHT Mulla of Kuwait.
Earlier, Ahmad Mohammad of Kuwait was ordered to leave the water, the bench and the pool deck after a kick 2 seconds from half-time when his team was ahead 5-3.

Cao Zhongrong of China came from behind to steal gold in the men's modern pentathlon, much to the delight of a raucous home crowd at Huangcun Sports Base.
Lee Choo-huan of Korea took silver while his teammate, Kim In-hong, held off a surging Wang Guan of China for the bronze.

Thailand won a thrilling women's sepak takraw regu gold medal decider, defeating Vietnam 3-1 at Haizhu Sports Centre.
Earlier, Thailand had won the gold medal in the team event.

Iran stamped its footprint at the top of the men's freestyle wrestling medal podium after Sadegh Goudarzi and Jamal Mirzaei won gold medals in the 74kg and 84kg divisions respectively, giving Iran six gold medals after four days.

Kim Deok-hyeon won Korea's second long jump gold medal in two nights when he beat favorite Su Xiongfeng of China.
Following in the footsteps of compatriot Jung Soo-nok, who won the women's gold medal the night before, Kim nailed a jump of 8.11m in the fifth round to grab top spot.

Liu Xiang of China won the men's 110m hurdles in an Asiad record time of 13.09 seconds. It was Liu's third consecutive victory at the Asian Games and the time he eclipsed - 13.15 - was what he recorded in Doha in 2006.
(China Daily 11/25/2010)