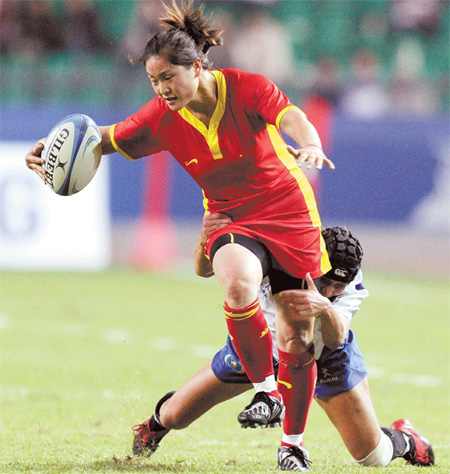 Ball-carrier Liu Yan of China eludes a tackle from a Kazakhstan player during the women's rugby final at the University Town Main Stadium in Guangzhou on Tuesday. Kazakhstan defeated China 17-14 to win gold.

Kazakhstan blasts past china for gold in women's debut
GUANGZHOU - Defending champion Japan beat Hong Kong 28-21 to win the men's rugby gold medal on Tuesday at the Asian Games, as Kazakhstan shocked favorite China to win the inaugural women's title.
Japan's win was sweet revenge after it was beaten by Hong Kong in the most recent Asian Rugby Sevens Series event in Borneo.
Japan raced into a 14-0 lead before Hong Kong hit back shortly before halftime, but there was just enough time for Japan to score again to go to the break deservedly 21-7 ahead.
Hong Kong got the second period off to a flying start to reduce the score to 21-14, with Anthony Haynes just denied on the tryline by a last-gasp tackle.
Hong Kong continued to press a tired-looking Japan and was further boosted when Masahiro Tsuiki was red carded for dangerous play.
Immediately afterwards Yiu Kam bulldozed his way over the line for Hong Kong, the conversion putting the two sides level at 21-21.
But the sending-off seemed to galvanize Japan, and they surged ahead once more when Yasunori Nagatomo went in under the posts, the conversion putting the holders up 28-21 .
"This is a hard-earned victory," said Japan captain Takehisa Usuzuki. "In the second-half, Tsuiki was sent off for dangerous play, but we still believed we could be the champions. Our faith in that brought us victory."
Korea overcame China 21-14 to claim bronze.
Kazakhstan became the first Asian Games women rugby winners, overpowering China 17-14.
Thailand beat Hong Kong 17-12 to take bronze and cap a miserable day for the home fans.
China thought it had won the game in the dying second in front of 36,600 fans at the University Town Main Stadium through Sun Tingting, but her try was chalked off for a knock-on.
China's reserves and staff had raced onto the pitch to celebrate, before they realized the try had been ruled out.
In contrast, despair immediately turned to joy for the Central Asian team.
"Before we arrived I thought we would get gold or silver. In July, we were beaten by China, so we thought we would only get silver," said Kazakhstan's Svetlana Klyuchnikova.
She picked out No 10 and try-scorer Lyudmila Sherer as the difference between the two sides.
"She is not new to the team, she is just young and had very little experience up till now, but she gained the experience she needed over the summer, so the coach tried her in this tournament from the start."
Asked how they would celebrate, she added: "We will drink a big, big bottle of vodka. We brought it with us but the (athletes') village security took it from us, so we will have to wait till we get to the airport to drink it."
(China Daily 11/24/2010)