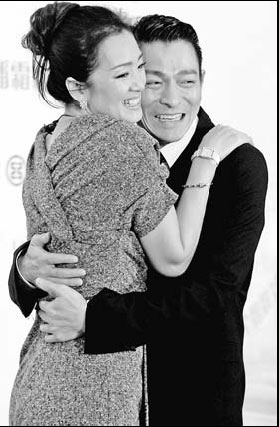 Gong Li goes funny
China's big screen diva Gong Li is to star, for the first time, in a modern comedy.
She is to act opposite Hong Kong superstar Andy Lau in a remake of Mel Gibson's What Women Want, directed by mainland director Chen Daming, and to be released on Feb 3, the Chinese New Year.
In the film Gong plays a creative director in a big company, who falls in love with Lau, who accidentally acquires the ability to read women's minds.
In Gong's eyes comedy is a difficult genre, as one needs to be natural. You cannot "act" the funny feel, but just be funny, she says.
The only comedy Gong previously appeared in was Flirting Scholar, a period slapstick movie directed by Hong Kong comedian/filmmaker Stephen Chow in 1993.
Bruce Lee by his brother
A Bruce Lee biopic, the script of which is based on a biography written by his brother, will premiere on Nov 25.
Titled Bruce Lee, My Brother, the film is based on Robert Lee's book about his brother the kungfu master. The film focuses on Lee's childhood and teenage years. For the first time, Lee's early years in America, his first love and early friendships are brought to the big screen.
"Bruce is always 32 years old, but we are getting older. If we do not preserve the memory, it will vanish forever," says Robert Lee. "So we want to reveal the real side of Bruce, especially his early days. Nobody knows him better than us, his brothers and sisters."
Hong Kong actor Aarif Lee, 23, winner of the Best New Performer at last year's Hong Kong Film Awards, plays the martial arts legend.
From the land of ice and fire
Icelandic designers and artists showcase their collections of works in Upbeat 2010 - Art and Design from Iceland, inspired by the nature and culture of the land of ice and fire.
Organized by the Embassy of Iceland in Beijing, four exhibitions featuring Icelandic photography, multimedia installation, furniture and architecture, fashion design and product design are on in Beijing's 798 Art District until Nov 29.
According to Kristin A. Arnadottir, Iceland's ambassador to China, more events throughout 2011 are under discussion to celebrate the 40th anniversary of the establishment of diplomatic relations between Iceland and China.
Lurk is audience favorite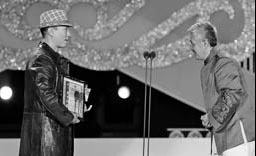 Chinese viewers have given their judgment on the best TV series and stars recently in Taiyuan, capital of Shanxi province, at the third Huading Award presentation ceremony, which has been held annually since 2008.
Using telephone interviews, interviews on the street and online surveys, the 2008 TV drama Qianfu (Lurk), a spy story, swept the awards ceremony as "the TV drama that Chinese audiences are most satisfied with".
Lead actors Sun Honglei and Yao Chen were crowned for their lead roles, while the villain of the piece, Zu Feng, was voted best supporting actor. An awards ceremony will be held in January, in Beijing.
China Daily
(China Daily 11/23/2010 page20)