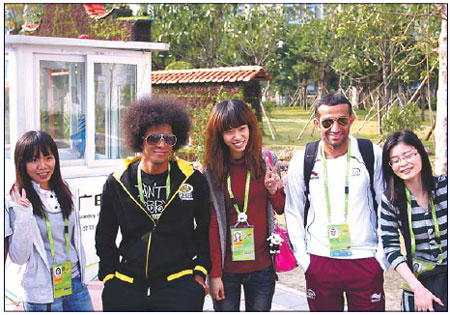 Qatari sailor Moosa Said Khalfan's (left) afro hairstyle is making him popular at the Village. Sun Xiaochen / China Daily
Your hairstyle is so cool. You look like a hip-hop star. Where did you get it done?
Thank you my friend! Yeah, it's cool and I made it especially for the games before I left home. I like black people's rock music, so I told the hairstylist that I wanted an old school pop style. And they made this special perm for me. I like it and my friends say it is cool.
It seems that your unique hairstyle has drawn many people to take photos with you, no matter if you win a medal or not. How does that feel?
It feels really good, you know. People come and say hello and then ask for a photo. I didn't win a medal, but it makes me feel like a superstar. It's very enjoyable.
Outside the competition, what do you do in your spare time?
I stay with my teammates during the breaks between competition. We usually play cards in our rooms or we just walk around the international zone seeking some fun. The most interesting thing I have seen so far is the paper-cut art. I saw an old man in the international zone. He used scissors to cut the paper and the paper became a dragon. It was amazing.
What have you gained from the Asian Games?
Not everyone has come here able to win medals. Most of us are here to enjoy the competition and the experience here. The people are all friendly and I have made several new friends. We are here not only to compete, but also to experience the whole gala.
What are your plans for the rest of the day?
We are going to the international zone now. We are going to look at the shops and see if there is anything we want to buy. We will train later in the afternoon. Maybe we will come back to sleep for a while before that.
(China Daily 11/22/2010)