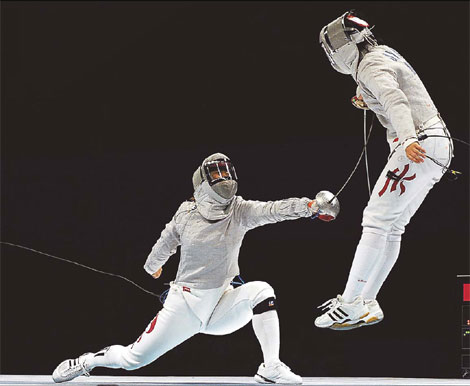 Tan Xue of China (left) competes against Au Sin Ying of Hong Kong in the women's individual sabre semifinal at the fencing at the 16th Asian Games on Thursday. Mike Clarke / AFP Photo
GUANGZHOU - Inspired by Au Sin Ying's surprise silver medal in the women's sabre on Thursday, Andras Decsi, the Hungarian coach leading the Hong Kong fencing team, hopes to put the former British territory on the fencing map.
China, the Republic of Korea (ROK) and Japan have long dominated the sport in Asia, with the former two often dividing the titles at major continental fencing events.
"I hope to place Hong Kong above Japan," Decsi, who took over the Hong Kong team in 2005, told China Daily after Au came from nowhere to place second at her event.
Au went virtually unnoticed before the competition as China's world champion and Olympic silver medalist Tan Xue was seen as the favorite alongside teammate Zhu Min, the world No 10, and Kim Keum-hwa and Kim Hye-lim of the ROK.
However Au, a 21-year-old freshman who studies at the Hong Kong Baptist University, staged an amazing run at the tournament by defeating Zhu and Tan before bowing out to eventual winner Kim Hye-lim in the final.
Decis, who discovered Au at a local sports institute in 2006, praised her performance and said it can put her into the elite class of the sport not only in Asia, but on the world stage.
"Tan and the ROK fencers are all elite athletes," Decis said. "Being able to compete against and defeat them proves Au's power."
Decis also coached Chow Tze Ki, a former world No 4 from Hong Kong, who won two bronze medals at the 2006 Doha Asian Games in the individual and team events.
A former professional fencer who had to retire from the sport due to injury, Decis said coaching in Hong Kong is by no means easy.
"It's a challenge for me," he said. "There was a lot of room for improvement when I first arrived there in 2005."
He is expecting Au's silver medal to inspire more youngsters in the territory to engage in the sport.
"I hope this medal can promote fencing in China and make more parents willing to send their kids to take it up," he said.
Tan, the former world No 1 in the event, also acknowledges the growth of Hong Kong fencers.
"They have been improving very quickly recently," she said. "They have enormous potential."
China Daily
(China Daily 11/20/2010)