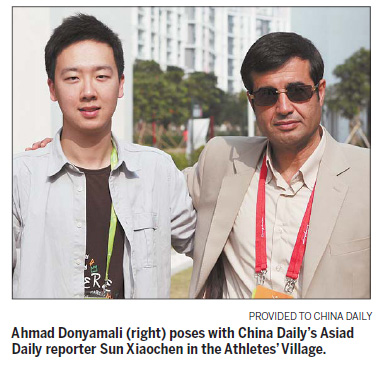 Ahmad Donyamali is the president of the Iran Canoeing, Rowing & Sailing Federation, and a strong candidate to assume the presidency of the Asian Rowing Federation.
How does it feel to be living and competing in Guangzhou? Is this your first time here?
I've been to China so many times. I came here 15 years ago for the first time, and I love the country very much. The people are friendly and the traditional culture is charming. For these games in Guangzhou, I think everything has been very well organized, with a high standard of service. We are happy to be here.
What do you think about all the development and changes in China since your first trip?
The biggest changes have occurred in the cities, not just in the world of sports. When I went to Beijing 15 years ago, I saw hundreds of bicycles on the road, but now so many of them have been replaced by cars. It's a great achievement.
Iran has been growing into a sports powerhouse in Asia. What have you been focusing on in particular?
Our sporting prowess has improved very quickly, especially in water sports like canoeing and rowing. Our government has paid much attention to these events, and we hired some foreign coaches from advanced countries such as China. At these games, we hope to capture at least three medals in canoeing and rowing, and we've got a very good chance of grabbing a gold.
How is the venue in Guangzhou?
The venue is fantastic. It's very well designed and it's challenging. But it is a little far from here. We need to spend an hour and a half on the bus to get there. That's the only problem, but it's no big deal.
Have you read the Asiad Daily, the official publication of the Asian Games?
Yes, I know the paper. I've read it many times. It's very useful for us to know what has been happening. It keeps us abreast of events.
(China Daily 11/17/2010)