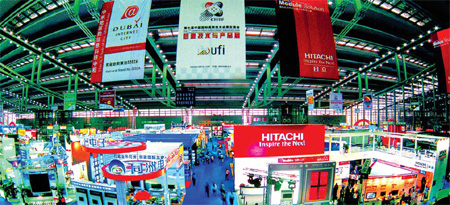 The fair showcases a wid range of cutting-edge technologies centered on energy saving and environmental protection. Photo provided to China Daily
The 2010 China Hi-Tech Fair (CHTF), whose theme this year is "Technology-led Transition and Innovation-driven Development", will showcase the latest technological achievements to serve the country's economic restructuring drive, the organizers say.
The annual fair is the nation's largest technology show. It will be held Nov 16-21 at the Shenzhen Convention and Exhibition Center.
The organizers include the commerce and industry and information technology ministries, the National Development and Reform Commission, and the Chinese Academy of Sciences.
They will have their own pavilions, while the Ministry of Agriculture and the State Intellectual Property Office will set up special exhibition zones.
Their exhibits will deal with energy saving, environmental protection, the low-carbon economy, and strategic new and emerging industries.
Pavilion spotlight
The Ministry Commerce has booked a 7,500-square-meter area under the theme of "Promoting trade growth by taking advantage of technological innovations".
It will mainly show how companies at some pilot industrial park projects have made use of technology to increase exports and promote a low-carbon economy and environmental protection.
These pilot parks have connections with technology hubs like Beijing's Zhongguancun and leading low-carbon enterprises like CASW, Newsmy, Himin Solar, and Aosa Pharmed.
The Ministry of Industry and Information Technology's pavilion will show industrial energy savings and the comprehensive use of resources.
It is expected to display the latest in products, energy saving and emissions reduction technology, environmental protection, and optimized use of industrial and telecommunications resources.
Its stated purpose is to accelerate the development of an industrial system with resources preservation and environmental protection within a recycling economy.
The ministry says that 73 leading companies from across the country -- China Mobile, China Energy Conservation and Environmental Protection Group, Huawei Technology, Shougang Group, Henan Coal Chemical Industry Group, Beijing Shenwu Thermal Energy Technology, Bonshine Optical Electron Technology and Changhong - will take part.
The National Development and Reform Commission says that one of its missions is to nurture emerging strategic industries. This will be on display in its pavilion.
These industries include energy-saving and environmental protection, new generation information technologies, bio-technology, clean energy, new materials, modern equipment manufacturing and alternative energy vehicles.
They are essential to fuel the development of China's fast-growing economy in the next decades, as the nation is eager to upgrade its labor-intensive processing industries to modern technology-driven industries.
About 70 representing companies, including ZTE, Datang Telecom, Changhong, TCL, China National Nuclear Corporation, China Guangdong Nuclear Power Holding Corporation, China FAW Group, Shanghai Automotive Industry Corporation (Group), BYD, Chang'an, Cherry, Mindray and Livzon Pharmaceutical Group Inc, will attend the fair.
Experts and government officials are being invited to a seminar to share their experiences and exchange ideas on how to help emerging industries, during the fair.
The Chinese Academy of Sciences will have a special 4,000-sq-m pavilion.
The academy has cooperated with its provincial counterparts in developing a number of promising companies in the industrial manufacturing, electronic information, new materials, bio-medical, and energy-saving sectors.
Some 40 research institutes and about 100 companies will bring projects and exhibits.
The CHTF has held a robotics show within the show for three years now.
This year it will introduce new products for daily life for things like family monitoring, housing-keeping, rehabilitation, and helping the elderly.
The Ministry of Agriculture exhibition will show how technology is used to help modernize agriculture.
It has a number of agricultural research institutes that will introduce projects and their original inventions.
One of the projects is about efficient wheat cultivation technology that could be applied to different types of the grain in other parts of the world.
Another project involves fish farming equipment that could survive a large typhoon at a fraction of the cost of the imported model.
The ministry will also hold a seminar on low-carbon agriculture and energy-saving technology in the agricultural sector between Nov17 and 18.
The State Intellectual Property Office will point to companies with intellectual property rights in the areas of information technology, energy efficiency, environmental protection, new materials, bio-technology, e-commerce, and electronic devices.
Some of these include the Winhi Group, Wuhan WDLZ Biological Technology Co, and Shenzhen Precise Pump.
The Shenzhen Market Supervision Administration will have a special area to show the young city's outstanding progress in intellectual property rights.
The China (Shenzhen) International Innovation Conference, organized by the China Association of Inventions, will run concurrently to provide an exchange area for investors and people with patents.
All of China's administrative regions will have companies and research institutes attending the fair, which is seen as a great place to show technological breakthroughs to the world.
Local highlights
Various urban and provincial economies will demonstrate their industrial features.
Beijing will focus on biological engineering, new medicines, optical-mechanics and electronics, engineering, new materials, clean energy and environmental protection.
Gansu will highlight bio-medical, new materials, and energy-saving technology developments.
Some 90 percent of its participating companies have their own intellectual property and patented ideas.
Shandong will feature marine economy, bio-medical, renewable energy, new materials and energy-saving developments.
Ningxia will pay attention to solar energy and related products, with a theme of how human beings can benefit from a low carbon economy.
Tianjin's pride of ownership will be found in environmental protection technology.
Sichuan will focus on electronic information, new materials, biological engineering, advanced manufacturing, aerospace engineering, and alternative energy.
(China Daily 11/15/2010 page24)