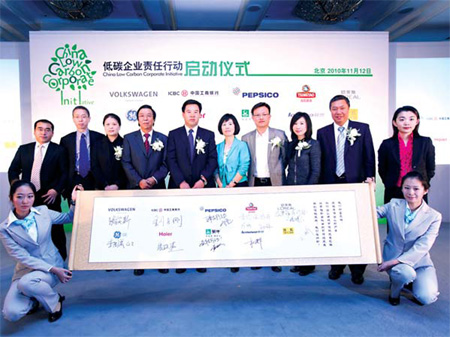 A ceremony on Nov 12 to inaugurate the China Low-Carbon Corporation Initiative. Provided to China Daily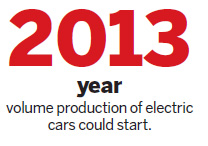 BEIJING - Volkswagen is determined to make electric cars at its local joint ventures and is preparing to start volume production in 2013 or 2014, said a senior management of its China operation.
"Before beginning local production of electric cars, we have to collect data from field tests and to choose proper battery suppliers in the country," Yang Meihong, vice-president of Volkswagen Group China, said in a recent interview with China Daily.
According to Yang, Volkswagen will bring a fleet of electric Lavida and Golf models to China for test drives.
Meanwhile, the company has been seeking for local battery suppliers, she said.
"To import parts is easier, but we want to have a high localization rate for components and to cultivate local suppliers of the battery unit."
Yang also noted the fuel-efficient powertrain - TSI engine with its DSG transmission - that Volkswagen has introduced to the Chinese market since 2007 has been well received by the customers.
"We want to walk on two legs - the electric strategy and improved traditional internal combustion engines," she said.
In addition to its effort to reduce carbon emission as a car manufacturer, Volkswagen has supported environment protection with a range of corporate social responsibility projects.
Its most recent move is a three-year program launched last week with Volkswagen as one of the co-founders.
The "China Low-Carbon Corporation Initiative" by Volkswagen and nine other leading companies - in sectors including finance, food and beverage, and consumer electronics - calls for collaboration with local governments in eight "low-carbon" cities and research institutions to promote sustainable development.
"The power of one company is limited - we want to call for more companies in various sectors to participate in good course," said Yang.
Volkswagen delivered nearly 1.5 million vehicles in China in the first three quarters this year.
Yang said the company expected to have a capacity of 3 million in China by 2013 or 2014.
China Daily
(China Daily 11/15/2010 page18)