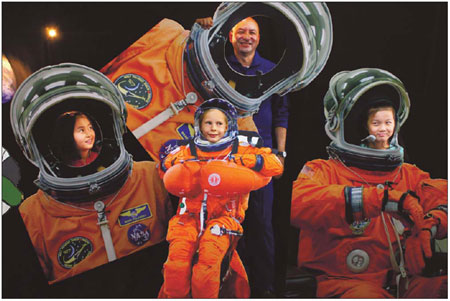 US astronaut Mark Polansky poses with students from the Western Academy of Beijing on Wednesday in the school's library. Zou Hong / China Daily
United States astronaut Mark Polansky took one small step into the capital this week to help Beijing's rising stars boldly go where he has been several times before - space.
Polansky will spend nine days in Beijing, talking to students and answering questions at various schools throughout the capital about the wonders of space.
"I personally enjoy doing things for the kids more than anyone else," he said.
"Kids are the ones who will be running this world of ours, the more we can get them thinking about it, the better."
The astronaut's first visit to China comes just days after Premier Wen Jiabao unveiled the first-ever photos of the moon's surface taken by lunar probe Chang'e-2.
So far, Polansky's visit has taken him from the Western Academy of Beijing (WAB), where he gave presentations to children of all nationalities ranging in age from 8 to 18, to the No 4 High School, where he debunked some of the mysteries of space to a group of 300 Chinese middle school students.
"My theory is that children all over the world are the same," he said "Space transcends governments."
Though each lecture was centered on space travel, Polansky said he wants to do more than just promote his profession.
"I'm not here to inspire them to become astronauts, I'm here to inspire them to become inquisitive. To get them thinking that there's nothing that cannot be accomplished as long as you're willing to work hard," he said.
Similar experiences in his youth talking with Eugene Cernan, the last US astronaut to walk on the surface of the moon, led him to become an astronaut in the first place.
"I experienced it as a kid and I never outgrew it," he said.
Friend Robert Landau, director of the WAB, who arranged the trip, first met Polansky at a school he was working at in Prague after contacting NASA to request an astronaut visit through the Astronaut Appearance Program.
The visit has been an opportunity of a lifetime for the WAB community, said Landau.
"When a real-life person like an astronaut visits our schools, it connects the kids with reality," he said.
"Once he sets foot on this campus, kids forget about fantasy. We have a perfect role model here for an entire week."
Polansky, whose wife and two children have accompanied him on the trip to China, will end the journey early next week with a visit to the Great Wall, his first time seeing the world wonder from either up close or afar.
"Everwhere I go, adults and children always ask me the same question - Can you see the Great Wall from space?"
"The answer is no. No you cannot."
China Daily
(China Daily 11/11/2010)