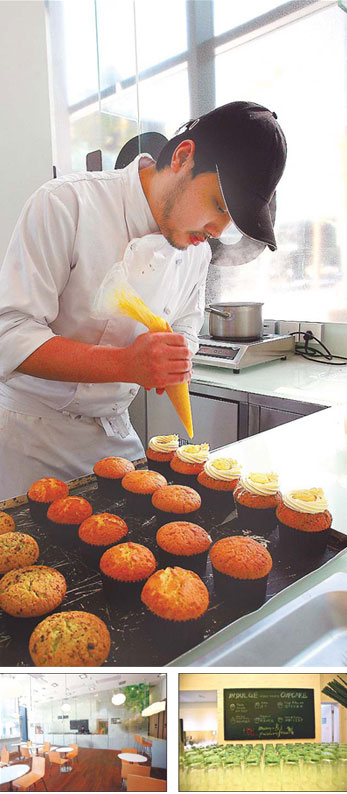 Clockwise from top: a chef adds a creamy layer to a tray of cupcakes; the menu board lists six cupcakes to choose from, as well as a daily special; the seating area inside Colibri is light and airy. Photos by Eileen Wen Mooney / for China Daily
The newly opened Colibri is a bright and airy cafe nestled in a quiet dugout at the North Village in Sanlitun. Just a few days after the official opening, it was already bustling with customers chatting with friends over cupcakes and coffee on a relaxed weekend afternoon. The mix of floor-to-ceiling glass panels, white walls and rustic wooden floorboards make it a tranquil place to have a conversation, to catch up with some e-mails or read a book.

Top: Carrot and zucchini. Middle: Orange & poppy seed. Bottom: Double chocolate.
Stated on a wall is "Coffee, Cupcakes and Fine Foods" and that is exactly what you will find at Colibri.
The menu matches the decor in that the selection is minimal, but the quality and presentation of the food makes you want to savor every bite.
Displayed on the counter are six different cupcakes that Colibri offers daily: carrot and zucchini, raspberry and lemon, and green tea, to name just a few, plus a "cupcake of the day".
Karyen Lam, a Malaysian pastry chef who trained at Le Cordon Bleu Paris, advised visitors to "expect adventurous flavors".
If you're looking for a light meal, they have wraps, paninis and a couple of soups and salads.
The smoked chicken with mushroom and Swiss cheese panini (48 yuan) is very nice.
Don't miss their warm Peking duck wrap, composed of generous pieces of Peking duck, strips of cucumber, lettuce, scallion, crumpled prawn crackers and savory seafood sauce, neatly bundled up into a plump roll.
Other tasty sandwiches also come on sourdough breads or in baguettes.
The tuna nicoise salad, also 48 yuan, is a generous portion and perfect as a complete meal for one - or for two to share if you were to have a sandwich or soup as well.
This satisfying tuna salad is loaded with boiled potatoes, black olives, cherry tomatoes, poached yard long beans, sliced cucumbers, anchovies, a dollop of flaked tuna, romaine lettuce and a soft boiled egg, then laced with a grained mustard dressing.
The cappuccinos, lattes and specialty coffees (vanilla, almond and caramel) are all excellent.
One of the best is the macchiato (15 yuan), which comes in a mini espresso cup with a shot of hot milk in the center - it's smooth with no trace of acidity, a perfect way to conclude a happy lunch.
In addition, Colibri has a good selection of teas that include jasmine, Earl Grey, mint chamomile, ginger and Darjeeling. Imported beers and wines are also available.
The spread of mediocre cafes in Beijing has been uninspiring as it is difficult to find a place that is both comfortable and can offer quality food and drinks.

In a little haven within the North Village, Colibri is delightful and refreshing - a lovely place to get away from the hustle and bustle of the city and sit quietly, looking out on the impressive architecture and shops that stand outside the large windows.
China Daily
(China Daily 11/10/2010)