Departure Gate
Your passport to the latest destinations and airline promotions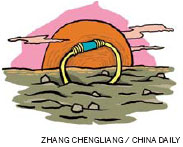 Ancient Syrian palace open to tourists
The Bronze Age Royal Palace of Qatna has been officially opened to tourists after more than a decade of excavation and restoration. Visitors to the site at Mishrifeh in western Syria will be able to see the fruits of years of work by archaeologists. Entry to the 4,000-year-old palace initially will be free. The project should be completed in 2013.
Madrid-Valencia route gets fast train
Spain's high-speed AVE train will link the cities of Madrid and Valencia beginning Dec 19. Passengers will be able to travel the 438 kilometers between the two cities in 90 minutes, reaching speeds of up to 330 kph, Spain's Transport Ministry announced. Between 13 and 17 trains will run each day, with one train per hour during rush-hour times.
Magazine salutes Raffles Beijing Hotel
Raffles Beijing Hotel has won an annual Reader's Choice Award as one of the 50 best hotels in the world, organized by Conde Nast Traveler, one of the leading lifestyle publications.
Last year, the hotel was cited by the magazine for another honor: the World'sBest Place to Stay.
Established in the 1900s, Raffles Beijing Hotel has long stood as an icon of Beijing's historical heritage. One of Beijing's most distinguished addresses, it has been chosen as the venue for many significant political and cultural events.
Conde Nast Traveler also listed four other Chinese hotels this year: Pudong Shangri-La and Portman Ritz-Carlton in Shanghai, The Peninsula Hong Kong and Ritz-Carlton Beijing..
Play football in the snow
Footballers can show off their dribbling skills at the Snow Soccer tournament in the Swiss town of Unterwasser beginning Dec 19. There are four members per team, including mixed teams, with players able to recover at the Spaghetti Bunker between matches. There will also be a fan fest with deejays and drinks. You have to register before Dec 12.
New online restaurant guide for Macao
Macao's wide selection of restaurants can now be accessed by means of a new online restaurant guide. The site offers visitors the chance to search for restaurants by location, price and style of food, according to the Macao tourist office. The system works on the word-of-mouth principle, giving users the chance to rate the 318 listed eateries while professional restaurant critics also give their views.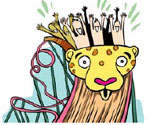 Cheetah Hunt will roll next year
A new roller coaster at Busch Gardens Tampa in Florida, called Cheetah Hunt, will thrill visitors in 2011. The 1.35-kilometer-long coaster uses the force of repelling magnets to launch riders from 0 to 97 km per hour in a matter of seconds, not once but three times.
The three-and-a-half minute ride will include a 36-meter fall into an underground trap, according to park operators. Cheetah Hunt opens in spring 2011 at the theme park, where live cheetahs can also be seen.
Cirque du Soleil salutes Michael Jackson
Michael Jackson was given to flights of fancy and the Cirque du Soleil musical Michael Jackson: The Immortal World promises to bring many of his creations to life in 2011.
The musical kicks off Oct 2 in Montreal and will travel throughout North America well into 2012. The tribute will be permanently based in Las Vegas starting in early 2013.
Jamie King will write and direct the $57 million theatrical and dance production, being staged in conjunction with the Jackson estate. He says the show will feature a cast of more than 60 performers.
The Montreal-based Cirque is renowned for its eye-popping costumes, dazzling sets and spectacular acrobatics and effects. Cirque du Soleil also has celebrated The Beatles (2006's Love) and Elvis Presley (2009's Viva Elvis).
Prams to the fore in Dutch culture park
A new culture trail in the national park of De Hoge Veluwe in the Netherlands has been designed especially with disabled people and parents in mind. The five-kilometer path is easy to negotiate with a wheelchair or baby pram and takes visitors past all the key sights in the park, which lies in heathland near the city of Arnhem.
The park celebrates its 75th birthday this year and is already famous for the white bicycles available to tourists free of charge and the Kroeger Mueller Museum. It features a world-famous collection of works from Vincent van Gogh, George Seurat, Pablo Picasso, Piet Mondrian and Fernand Leger.
Airline news and deals:
Hainan Airlines will fly direct to Toronto: China's Hainan Airlines will launch non-stop service between Beijing and Toronto on Nov 27. A widebody A340 aircraft will fly this route three times per week, on Mondays, Wednesdays and Saturdays, for the startup period. The largest non-state-owned carrier in China will offer promotional fares from about $500 plus tax for a roundtrip flight from Nov 27 to the end of December other than the peak period of Christmas.
Address change: China Eastern Airlines has relocated its Beijing branch to 1 Xiaotianzhu Lu, Shunyi district, Beijing, 100621. Telephone number: 010-5737-7136 or 5737-7139.
E-mail: bjfgs@ceair.com.
China Daily - Deutsche Press-Agentur
(China Daily 11/07/2010 page16)
Today's Top News
Editor's picks
Most Viewed