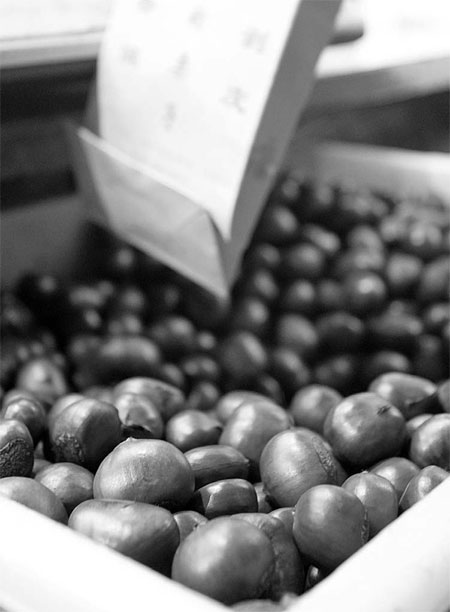 Beijing
Smoky sweetness wafting on the chilly bright air of autumn announces the arrival of a favorite seasonal delicacy. Li Jing tracks down the chestnuts.
When yellow-orange hues color the trees in the city, it signals the time for delicious sugar-roasted chestnuts. All over Beijing now, the smoky scents advertise the proliferation of places selling chestnuts, and some of stalls are time-honored favorites. Just a few meters away from touristy Nanluogu Xiang is the capital's most celebrated roasted chestnut stall ?Qiulixiang. Its Old Beijing pedigree lends a vintage flair to the stall, emphasized by its intricately carved wooden panels and red-tiled roof.
It is easy to find and all you have to do is to spot the queue in front of the shop, which forms as early as 9 am.
"Every time I come, there is always a long line. Thanks to the cold weather this time, there are less than 20 in the queue when I came at 4 pm," says Song Xueyin, who lives in the neighborhood and has been a fan of the roasted chestnuts here for more than 10 years.
Fans think the wait is worthwhile, and even the chill cannot still the hankering for perfectly roasted nuts.
Inside the 10-square-meter shop, five half-meter-high machines rotate nonstop.
Chestnuts mixed with black sand are cooked until they are polished and bright, almost as if they have been burnished with oil. As the nuts roast, water and malt are added from time to time.
The chestnuts come from Huairou and are placed in cold storage for 15 days to dehydrate the nuts slightly so the sweetness intensifies - a process similar to wine brewing.
Two sizes of chestnuts are on sale, both at 15 yuan per 500g.
"The price is five yuan higher than that last year, but I can't help buying several kilos every week," says Liu Shu. "They taste better than others as there are hardly any bad nuts and every nut separates effortlessly from the shell."
Qiulixiang is open all year round and also provides home delivery.
Another favorite chestnut roaster is Wanglaotou, which may just be the oldest such stall in Beijing, with a history of more than 100 years dating back to the late Qing Dynasty (1644-1911).
According to Wang Haishan, the fourth-generation owner, the stall used to be the exclusive provider of roasted nuts to the imperial family.
His grandfather was known as Wang "yichan" - "one shovel Wang" - for his dexterity using the iron shovel. These days, however, the nuts are roasted in large electric churns.
But the current Wang still uses a shovel for the finishing touches.
Although the stall is far away from the large shopping malls, there are fans who come all the way south to buy a bag of chestnuts, priced at 14 yuan per 500g this year.
Another time-tested shop offering sugar-roasted chestnuts is Meilixiang, which also sells candied hawthorn popular with customers.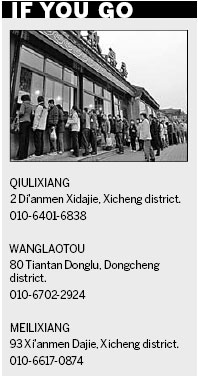 (China Daily 11/07/2010 page15)