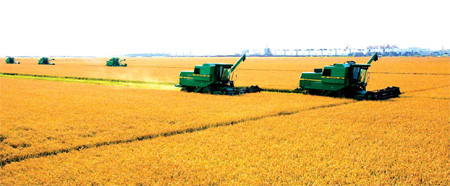 Harvest time: Heilongjiang Agriculture Reclamation Zone is a national grain and green food production center. Hou Zhaocun / for China Daily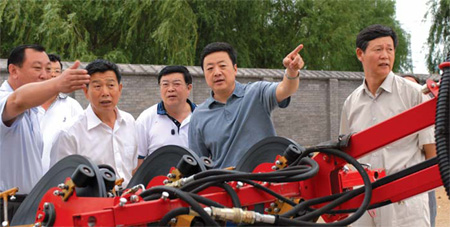 Sui Fengfu (second from right), director of the Heilongjiang Agriculture Reclamation Bureau, visits local farmers. Provided to China Daily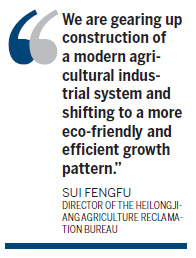 Another record harvest is predicted for the HARZ amidst an organic boom
Heilongjiang Agriculture Reclamation Zone (HARZ) is expecting a bumper harvest this year with annual grain production estimated at 18 billion kg, a 75 percent increase from 2005.
The harvest marks seven consecutive years of record-breaking production.
Sui Fengfu, director of the Heilongjiang Agriculture Reclamation Bureau, attributed the dramatic growth to continued infrastructure investment.
Some 4 billion yuan has been poured into irrigation projects over the past five years, benefiting more than 6,000 sq km of farm fields.
During that same period, 1.8 million yuan was invested in land reclamation, adding 120 sq km of fields. Three billion yuan was used to renovate some 3,000 low-yielding farms.
Accumulated investment in agricultural machines from 2006 to 2010 amounted to 6.4 billion yuan. Nearly 97 percent of HARZ farms now use mechanical equipment.
Widespread use of advanced agricultural technologies, standardized operations and favorable policies have also contributed to increased production, Sui noted.
"We are gearing up construction of a modern agricultural industrial system and shifting to a more eco-friendly and efficient growth pattern," he said. "We hope this will ensure steady high yields and contribute more to the nation's food safety."
Land reclamation
Broad sweeps of rice paddies and farmlands stretching towards the horizon are now common sights on the vast plains of China's northeastern Heilongjiang province.
But half a century ago, it was a different story. The land bordering Russia's Siberia was covered with marshes and swamps. It was known as Beidahuang, or the Great Northern Wilderness.
Between the early 1950s and the late 1970s, large wetlands were reclaimed by young soldiers, college students and urban youth responding to the government's call to "develop the wilderness".
Today the zone has become one of China's largest centers for grain production, growing more than 138 billion kg of grain over the past six decades.
"It took us 48 years to raise annual grain production from 2.4 million kg to 5 billion kg, and then 10 years to move from 5 billion kg to 10 billion kg," Sui said.
In 2006, the region produced more than 11.3 billion kg of grain, 90 percent of which went to the national grain reserve.
Organic and modern
The local government has established four ministry-level food quality inspection centers and more than 100 work stations to ensure food safety.
A recognized leader in crop research, China is now experiencing an organic farming boom. The surge has been largely fueled by increased overseas demand, and a growing public fondness for fresh organic produce.
"We built our reputation on being free from pollution and growing produce on land that hasn't been treated with chemicals for over 60 years," Sui said.
Technological innovation, is crucial to producing safe food on clean lands, he added.
HARZ has established strategic partnerships with the Chinese Academy of Agricultural Sciences and China Agricultural University.
It has begun construction on research and development centers to promote industrialization of agricultural technologies.
Some 57 percent of HARZ's total farmlands are now organically cultivated. And that figure is expected to surpass 70 percent in 2015, according to the zone's director.
Authorities are planning large organic food industrial parks in Harbin and the Yangtze River Delta region in efforts to create a widespread market system including online trade and logistics.
"Our goal is to build a greater modern agricultural system," said Sui .
To this end, companies with a technological and marketing edge are a necessity, he continued.
If Heilongjiang's 93,333 sq km of farms could mimic HARZ's yield, the province would generate more than 16 billion kg of crops, said experts. This would be enough to feed 100 million people.
As most of the zone borders rural areas, officials expect its development will assist local farmers in procuring modern technologies.
(China Daily 11/01/2010 page10)