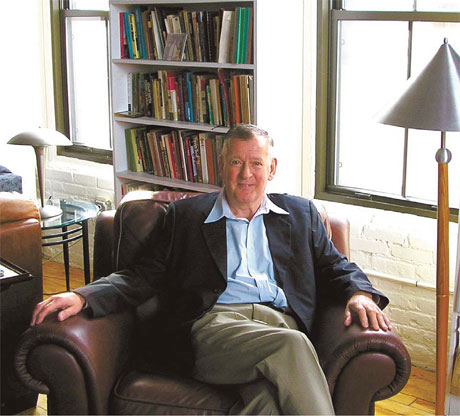 Ross Terrill has penned dozens of books about China and his latest is Myself and China. Photos provided to China Daily
An old China hand, Ross Terrill's latest book puts together stories of his encounters with Chinese leaders and laymen over half a century. Du Guodong reports
Ross Terrill fondly remembers his encounter with former premier Zhou Enlai. "This man serves as your vanguard, right?" Zhou joked with former Australian Labor Party leader Gough Whitlam, who was sitting beside him, while pointing at Terrill. "Where did you study Chinese?" Zhou asked Terrill. "In the United States," came the reply. "That's a fine thing, an Australian learning Chinese in the United States!" said Zhou, beaming.
This dialogue took place in 1971 in the Great Hall of the People, where Terrill, a longtime China specialist, was accompanying Whitlam, who later became prime minister of Australia, on his visit to China.
A collection of many such remarkable stories of Terrill's encounters with both leaders and laymen in China over half a century are out in a book titled, Myself and China. Brimming with little-known stories of the country, from a foreigner's point of view, the book became an instant hit when it debuted in Chinese in late August.
"Dashing, clever, and unselfish, Zhou was a man of honor in personal life ... I admired his mix of silk and iron," Terrill says of Zhou, adding that the former premier was the most memorable Chinese political figure he has met.
As a research associate at Harvard's Fairbank Center for Chinese Studies, Terrill has penned dozens of books, most of which are related to China. He is widely known for his Mao: A Biography, acclaimed as one of the best memoirs of Mao by Western scholars since it hit the shelves in 1980.
"I owed something to my wonderful Chinese readers of Mao - more than 400,000 copies sold. I wanted to reward these readers with the first look at Myself and China," Terrill says.
He told China Daily via e-mail that his agents in Sydney and in New York are planning the book's English edition in 2011.
Myself and China, 25 chapters in total, covers the transformation of the country from the 1960s to the 1980s, as seen by a reporter, and is dotted with many photographs.
From being a rural boy in Australia, Terrill went on to graduate from the University of Melbourne in history and political science in 1962 and continue his studies at Harvard, earning a PhD in political science in 1970. He then stayed on at the university as a professor of China studies.
Terrill's tutors at Harvard include former US secretary of state Henry Kissinger and John King Fairbank, one of the leading Sinologists in the US, both of whom left an indelible imprint on his academic research.
His romance with China started while still in primary school in a small village in Australia. His first school girlfriend turned out to be half-Chinese. Her father, a druggist, was the sole Chinese in the village in the 1940s.
Throughout his life, Terrill has participated in many historical moments of Sino-Australia and Sino-US relations. He was special commentator at CBS during Nixon's historic visit to China, answering questions that ranged from "Do Chinese have their religions?" to "Why do the Chinese entertain Nixon with a plate of fruit jelly?"
He was a fervent advocate of cementing bilateral relations between the US and China, even before the two countries established diplomatic relations.
But his writings and remarks were sometimes dubbed too "Beijing-friendly" and he was accused of straying from the mainstream China scholars in the West, especially before Nixon's ice-breaking visit.
"I was rebuked in the 1970s. I strongly favored China then because of the international situation. It was crazy and dangerous to keep China out of international society," Terrill says of his days both in Melbourne and at Harvard.
"Some called me a Red. But when 'unofficial China' emerged in the 80s, I was always on this side - (on the side of) artists, students, business folk - rather than an automatic friend of 'official China', the Chinese State," he says.
Unlike other books about the country by Western scholars, Terrill's books are full of humane accounts of his personal encounters.
Since his first visit in 1964, Terrill has visited China nearly every year and left his footprints in many parts of the country.
He interviewed people from all walks of life including government officials, businessmen, writers, students, and rural people, giving an insider's account to his Western readers.
"It is necessary to avoid putting China in a box. A Western box. A Marxist box. A box of Asian socialism," Terrill says.
Well-known Chinese scholar Guo Moruo, also an intimate friend of Mao, described Terrill as "the rising sun at 8 o'clock" during their meeting in 1971 in China, when the author was 32 years old.
Guo told him privately that two of Mao's pet English phrases were "law and order" and "Anti-Mao Zedong". Mao even raced against time to study English before Nixon's visit.
"A pioneer has to be original. There is no road, he makes a road. Mao did this mainly by thinking. Deng did it by political strategy, crossing the river by feeling for the next stone," Terrill says.
He says China tended to hide itself from the outside world during Mao's time, but does that much less now than in the 1960s and even the 1980s, especially after Deng Xiaoping kicked off the reform and opening-up policy.
"The romanticizing of China in the West and the demonization of China in the West always go too far," he says.
Terrill says China was never as weak as it seemed back in the early 20th century when it was called the "sick man of Asia". And it is not as unstoppable as it seems now to those who fear or admire it.
The 21st century world, he says, unlike that of the 19th and 20th centuries, is an interlocked whole, with little space for a new hegemony to plant its flag.
"Globalization makes the world more crowded, more resistant to any ambitious new superpower. We are on an open sea together. We need leadership, but not dominance.
"Leadership is more than power, it involves a message for the world and skilled give-and-take with other cultures," Terrill says.
A second volume of Myself and China is in the works, and it will cover the stories of China in the 1990s and beyond, especially the reform era and its achievements and its contradictions.
Terrill's works also include 800,000,000: The Real China, The Future of China: After Mao and The White Boned Demon: A Biography of Madame Mao Zedong.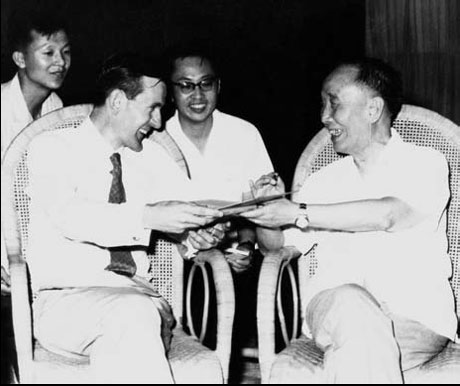 Ross Terrill, then 32, with scholar Guo Moruo in Beijing meeting, 1971.
(China Daily 10/22/2010 page19)