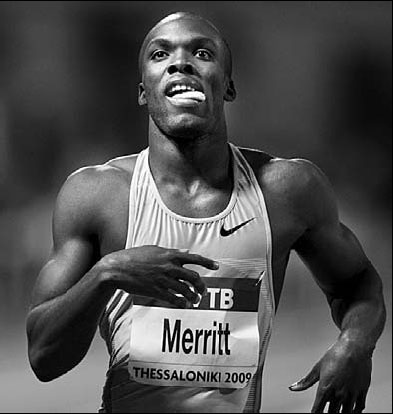 LaShawn Merritt reacts after winning the men's 400m at the IAAF World Athletics final in Thessaloniki, Greece, on Sept 12, 2009. Thannasis Stavrakis / Associated Press / File
400m champ tests positive for banned 'enhancement' substance
RALEIGH, North Carolina - US Olympic and world 400m champion LaShawn Merritt has been suspended through July 2011 after testing positive for a banned substance found in a male enhancement product, the US Anti-Doping Agency said on Monday.
The Beijing Olympic and 2009 world gold medalist had three samples test positive for prohibited testosterone prohormones, the anti-doping agency said in a statement.
He was suspended for 21 months, beginning Oct 28, 2009, the date of his first sample.
Merritt had accepted a provisional suspension in April "as a result of positive drug tests caused by his use of an over-the-counter male enhancement product," the American's attorney, Howard Jacobs, said in a statement at the time.
The statement said Merritt had used the over-the-counter product, which contained DHEA and pregnenolone, following the 2009 season.
Merritt acknowledged again on Monday he had made a mistake and said he was appreciative the three-member arbitration panel "agreed that I have never taken any substance to gain an advantage on the track," he said in a statement.
"I look forward to returning to competition as soon as possible and proving that my prior successes, including at the Olympic Games, were achieved honestly and fairly."
Merritt, who claimed he had started using the product after the 2009 season, first tested positive on Oct 28, 2009, then on Dec 8 and finally on Jan16 this year.
The suspension has been backdated to start on Oct 28, 2009, though. He did not receive the most stringent punishment possible, a two-year ban.
Merritt had said back in April, when it was first revealed he had failed the tests, how embarrassed he was.
"To know that I've tested positive as a result of a product that I used for personal reasons is extremely difficult to wrap my hands around," he said.
"I hope my sponsors, family, friends and the sport itself will forgive me for making such a foolish, immature and egotistical mistake. Any penalty that I may receive for my action will not overshadow the embarrassment and humiliation that I feel inside.
"I am deeply sorry and hope that other athletes who take these types of over-the-counter products will be even more cautious and read the fine print, because if it can happen to me, it could happen to you."
Merritt, who first displayed his talent by taking world silver in 2007, had ended compatriot Jeremy Wariner's dominance of the 400m when he eased to Olympic gold in Beijing in the fifth-fastest time in history of 43.75 seconds.
Reuters-AFP
(China Daily 10/20/2010 page23)