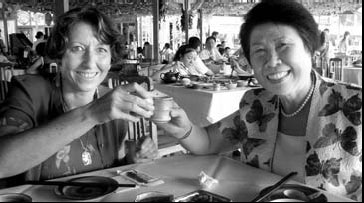 Julia Prez-Cerezo with Ding Kai, one of the 15 entrepreneurs mentioned in her book. Provided to China Daily
Spanish entrepreneur Julia Prez-Cerezo says that she finds Chinese women entrepreneurs totally inspiring. So much so that she decided to interview 15 of them for her first book.
"I was invited to attend the 11th International Conference of Women Entrepreneurs that took place in Beijing in September 2004. I was totally inspired by their unique personalities," Prez-Cerezo says.
Being a female entrepreneur herself for many years in Madrid and working in the United States and south Europe in engineering, Prez-Cerezo knew very little about China or Chinese women when she moved to Beijing in 2004, with just a suitcase and a piece of hand luggage.
"I embarked on my journey to China with no specific goal in mind, but hoping to find a treasure that would enrich me and change my life forever," she says.
In the book, Emprendedoras chinas (Chinese Female Entrepreneurs), Prez-Cerezo aimed to open the eyes of the West to the growing role of Chinese female business leaders, whose determination, inner strength and desire to succeed against all odds remain little known outside of Asia.
This is the very first time that a book like this has been written about personal stories on Chinese female entrepreneurs as few people paid attention to the group before.
Most of the women started their businesses when they were over 40 years old and they are still working as entrepreneurs, which is unusual in Europe.
Prez-Cerezo firmly believed that the stories of these women as leaders, wives, daughters, and mothers were important in shaping their personalities and in making them successful entrepreneurs.
By allowing them to do the talking without applying any Western filters and avoiding, as far as possible, any interpretation of the events, Prez-Cerezo immersed herself in the daily life of these women and recounted their story from an Asian point of view.
The 15 women come from different cities across China in a variety of industries including transportation, textiles, food, consulting and hospitality.
"They're the first generation of entrepreneurs and top executive that was born under the opening-up process instigated by Deng Xiaoping and had a very harsh youth," Prez-Cerezo says.
She recalled that the women all used the phrases "we're not afraid of failures" and "if I fail, I will start over again", which taught her that leadership starts by taking charge of one's actions and focusing the learning process on oneself.
Chinese women entrepreneurs are described by Prez-Cerezo as women with great energy, tremendous intuition, great communication and interpersonal skills, great self-motivation and outstanding leadership and self-control.
Shi Qingqi, the executive vice-chairman and secretary-general of the China Association of Women Entrepreneurs helped Prez-Cerezo choose and get in touch with the 15 women and finish all the interviews. However, Prez-Cerezo spent two-and-a-half years convincing Shi to assist her.
"As a foreigner who could barely understand the Chinese Shi didn't trust me at the beginning, but luckily she was persuaded by my sincere attitude and great interest in Chinese women," says Prez-Cerezo.
She didn't have any interpreter and interviewed all 15 Chinese women by speaking 'Julia-style Chinese' as she wanted to talk to them with her heart.
"I couldn't pick a single woman as a representative example from the 15, as each of them has her particular experiences and personalities that touched my heart and taught me lessons," says Prez-Cerezo.
They're the strongest and most practical people she has ever met in her life, she adds.
She traveled to meet and interview all her 15 interviewees in one month and finished writing the book within a couple of months.
After staying in China for six years, Prez-Cerezo has made many Chinese friends and now speaks Chinese fluently.
"As a woman who used to work with men most of the time, I wanted to get back to being with women and understanding them, especially Chinese women, who suffer stereotyping by Western countries," Prez-Cerezo says.
The Spanish version of the book was published in September 2009 in Madrid and the English version was introduced at a reading seminar at the Madrid Case Pavilion in the Puxi side of Expo Garden in Shanghai, in September.
At the moment, Prez-Cerezo is preparing for her second book, also about Chinese female entrepreneurs, but one that focuses on the economic aspect to show how they stimulated the Chinese economy with their efforts and companies.
"I would like to open a window for the Western countries, showing how Chinese female entrepreneurs obtained success with their strong inner power and extraordinary persistence," Prez-Cerezo says.
China Daily
(China Daily 10/16/2010 page11)