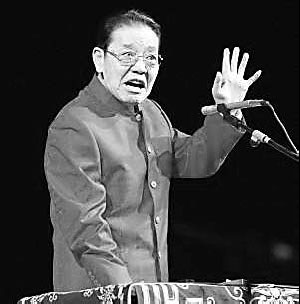 Shan Tianfang on the Net
Shan Tianfang, known for his impressive re-telling of classics and popular novels, can now be found in cyberspace at http://cul.china.com.cn.
Enthusiasts can access for free not only the 75-year-old's well-known narration of stories about ancient China but also his latest works about heroes of the War of Resistance against Japanese Aggression (1937-1945) and about business leaders of contemporary China, according to website manager Zhang Shuo.
Academics come together
Academics from Japan, France, Denmark, United States, United Kingdom, and Australia, joined their Chinese contemporaries for a conference on art, design and architecture education, at the Central Academy of Fine Arts (CAFA) in early October.
Participants at the 3rd International Summit of Presidents of Art Academies also agreed to establish a network for regular academic exchange and possible cooperation.
"In an increasingly globalized world, a single academy can no longer deal with the various challenges facing art education institutions. We must join hands, learning from each other, and helping each other," said CAFA president Pan Gongkai.
Growth for textile firms
The China National Textile and Apparel Council has come out with a list of the latest Fortune 500 companies in the domestic fashion industry.
The companies have been picked for their creativity, sense of social responsibility, contribution to environmental protection and profits. They include those specializing in knitting, costumes and textiles.
The reports says that despite the impact of the recession, the companies showed good performance, with those based in the central and western regions actually registering an improvement.
The Shandong Weiqiao Textile Company, under the Weiqiao Pioneering Group, takes the top slot. It specializes in textiles, especially cotton and jeans material, supplying to clients at home and abroad.
Miss World Fashion Show
The Miss World beauty pageant committee will partner China's Huayu Group to hold the 2010 Huayu Miss World Fashion Show at Sanya, Hainan province, on Oct 23.
To celebrate the pageant's 60th anniversary this year, contestants from more than 120 countries and regions will put on typical Chinese costumes, and present Chinese dances. The runway will be made to look like an ancient palace, and Chinese melodies used for the background music.
The fashion show will showcase the beauty of ancient China. Zhang Jigang, deputy director of the opening and closing ceremonies of the 2008 Olympics, has been invited to be artistic director for the fashion show.
Spanish night in Beijing
More than 80 Chinese and Spanish gathered at a Spain-themed buffet party on Friday night at Nali Patio, a small Spanish-style mall in Beijing.
The Spanish participants, mainly artists working in Beijing, mingled with Chinese art collectors and scholars, sharing authentic Spanish food and wine, flamenco dance and Spanish music.
Five small exhibitions displayed fashion photos, sculptures, decorative works and picture albums from galleries in Beijing as well as New York.
China Daily
(China Daily 10/13/2010 page20)