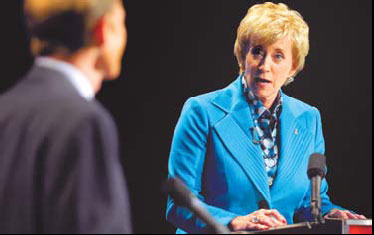 Republican Senate candidate Linda McMahon (right) in a debate in Hartford, Connecticut, with Democratic opponent Richard Blumenthal on Monday. Candidates have been slinging mud for months, now they're sparring up close. Rich Messina / Associated Press
WASHINGTON - Candidates in next month's United States' congressional elections have been slinging mud at each other for months, their insults filling TV ads and peppering speeches.
Now, in the final weeks before the vote, the candidates are meeting face-to-face in debates. In the run-up to the Nov 2 elections, dozens of debates are scheduled for candidates running in hotly contested races for the House of Representatives, the Senate and governor's offices in states around the country.
So much is riding on the debates, that it is no wonder the candidates are getting in each other's faces in some of the nastiest confrontations in recent memory. A polarizing groundswell known as the tea party movement, based largely on suspicion of Obama's background, policies and motives, has brought about much of the vitriol.
Still, the debates can offer some of the only unscripted moments in the campaigns. Although much planning goes on behind the scenes to ensure that candidates can answer questions satisfactorily, a debate is the rare time when candidates directly interact with each other and show the voters how they behave under pressure.
"That's a lie. You know that's a lie. I never said it," said Republican Linda McMahon going after Democrat Richard Blumenthal this week as the rivals for an open US Senate seat in Connecticut shared a stage. Afterward, Blumenthal insisted his opponent was the one playing "fast and loose with the facts".
In California, Republican Meg Whitman, a candidate for governor, pointedly blamed Democrat Jerry Brown, a former governor, for the disclosure that she had employed an illegal immigrant housekeeper.
"You put it out there, and you should be ashamed for sacrificing Nicky Diaz on the altar of your political ambitions," Whitman told Brown, who was standing nearby.
"You have blamed her, blamed me, blamed the left, blamed the unions. But you don't take accountability," Brown shot back.
This close to Election Day, these confrontations can change the trajectory of a race or lock it in place.
Those in tight races, like Senate Democratic Leader Harry Reid and his Republican challenger, Sharron Angle, seek game-changing performances to sway the sliver of still-undecided voters in Nevada.
Those with comfortable leads in polling, like Republican Rob Portman in Ohio's Senate race against Democrat Lee Fisher, go into debates simply hoping to avoid making a gaffe or hurting their advantage.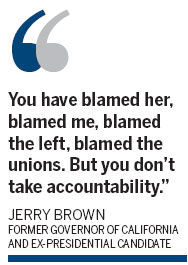 The debates give candidates a forum to explain their positions or backgrounds directly to voters, circumventing the media filter. They get to rebut their opponents' claims and level their own criticisms.
But it is not only words. Images matter just as much. How these politicians perform on stage - from their posture to facial expressions - can tell voters much about their character and their poise, and play into campaign narratives.
At a debate in the 2000 New York Senate race, Republican Rick Lazio strode across the stage and demanded Democrat Hillary Rodham Clinton sign a pledge banning unregulated financial contributions known as "soft money" from her campaign. The confrontation generated sympathy for Clinton while making Lazio look like a menacing bully.
Rewards can be sweet for candidates who exceed expectations, or who benefit from their opponents' poor performances. But risks are enormous, too, particularly in the Internet age. Make a major mistake, and it can quickly spread or become ammunition for attack ads in the final days.
In this year's Alabama gubernatorial race, Democrat Ron Sparks attacked Republican opponent Robert Bentley with an ad showing Bentley during a candidate forum saying: "Not every child is going to college and not every child is supposed to go to college."
The two had been debating a plan to use state lottery revenue to pay for scholarships.
"Sometimes in a forum as you are speaking, sometimes things may come out different than the way you want them to come out," Bentley said later.
Arizona Governor Jan Brewer, in her only debate, lost after losing her train of thought while discussing her accomplishments and then enduring a painful silence.
Associated Press
(China Daily 10/09/2010 page8)