China's high-speed railways are attracting attention around the world for their state-of-the-art technologies using independent intellectual property rights.
In early September, South Africa's Standard Bank Group signed memorandum of understanding with China Railway Group to build a $30 billion high-speed rail network.
Russia, the United States, India and Brazil have also shown keen interest in China's high-speed rail technology.
"With independent innovation and rapid development, China's railways have achieved great success," said He Huawu, an academician of Chinese Academy of Engineering.
He noted that all of the nation's high-speed railway technologies now reach advanced world levels and comprise a complete system using proprietary technologies.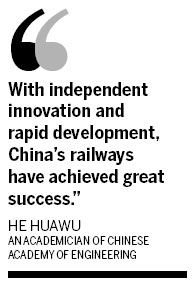 China's independent research and development in train technology known as Electric Multiple Units (EMU) is so well developed electrically powered train carriages can reach speeds of 250 km to 380 km per hour.
More than 300 patent applications have now been filed in China related to EMU manufacturing techniques.
He said safety of train operation is the crucial technical problem for the entire rail industry.
Chinese designers have developed patented control systems that enable high-speed trains to exchange data while still 32 kilometers apart and automatically keep a safe distance of 14 kilometers.
China has also established a world record in railway construction accuracy with tolerances in track laying and ballasting reaching 1 millimeter.
It also has 700 kilometers of track that automatically melts snow in extreme weather and environments.
To date, 946 domestic patent applications have been filed for high-speed rail technology with independent research and development. China's railway system has the most connecting lines and length of track in the world and is capable of the highest speeds of any globally.
Technology coordination groups have already been established between China and other nations including the US, Russia, Brazil, Saudi Arabia, Venezuela, Myanmar, Poland, India, Kyrgyzstan and Uzbekistan.
EMU carriages and its parts made in China have been exported to more than 50 countries and regions.
China Daily
(China Daily 09/29/2010 page17)